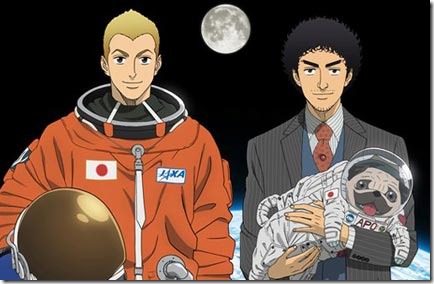 Anime Space Brothers (宇宙兄弟) ended a 99 episode run and recently announced a compilation album of the opening and ending theme songs. The double-CD album includes the 8 opening and 8 ending theme songs plus it includes a DVD with the textless OP/ED animation. Space Brothers COMPLETE BEST Limited Pressing edition hits stores July 23rd 2014 – read on for more details and pre-order info…
The Space Brothers (Uchu Kyodai) anime adaption began April 2012 and aired 99 episodes over two years ending March 22nd 2014. The ongoing manga by Koyama Chuya recently announced an anime movie Space Brothers #0 with an all new story set to premiere August 9th 2014, more details at official website (link below).
Space Brothers follows brothers Mutta and Hibito who formed a bond around their childhood dreams of becoming astronauts. The year is now 2025 and younger brother Hibito has fulfilled the dream and is currently in training for a NASA/JAXA mission to the moon. Mutta has lost his job as a successful automotive designer due to an altercation with his manager. Now Mutta needs a push and encouragement to try to fulfill the dream of becoming an astronaut too.
Space Brothers aired on Yomiuri TV and outside of Japan provider Crunchyroll streams the anime. Hit the link for Space Brothers for episodes and related stories.
Compilation album Space Brothers COMPLETE BEST Limited Pressing edition available until the end of January 2015 includes a DVD with textless OP/ED animations, illustrated triple cover case, booklet, and sticker (details subject to change). Track list below is tentative and lists the OP/ED in order aired.
Jacket cover art, official track list, and more will be announced – follow Comtrya Sugoi for updates. Preview teaser for upcoming movie Space Brothers #0 follows below the release details.
Various Artists – Space Brothers COMPLETE BEST – release date July 23rd 2014
Limited Pressing [2CD+DVD] (¥3500)


 
[CD1] OP
1. Feel so Moon (UNICORN)
2. Eureka (Sukima Switch)
3. Yumermiru Sekai (DOES)
4. Small World (Fujifabric)
5. Kienai E (Magokoro Brothers)
6. Crater (Merengue)
7. HALO (tacica)
8. B.B. (The Yatou)

[CD2] ED
1. Subarashiki Sekai (素晴らしき世界) (Rake)
2. Kokuhaku" (告白) (Angela Aki)
3. Tete (Akihisa Kondou)
4. Goodbye Isaac (Motohiro Hata)
5. BEYOND (Miho Fukuhara)
6. Yozora no Taiyou (Flower Companyz)
7. New World (Kasarinchu)
8. Anata ga Ireba OK! (Serena)

[DVD]
1. OP animations (textless)
2. ED animations (textless)

 
Space Brothers official website