Aimer (エメ) added more details for extended play single Dareka, Umi wo (誰か、海を。) – jacket covers, more track list information and new song preview unveiled. The title song is written by Yoko Kanno and featured as the ending theme for anime Terror in Resonance (Zankyo no Terror). Single Dareka, Umi wo releases September 3rd 2014 – updated details and PVs follow…
~ track list and bonuses revealed ~
Most recently Aimer released her 2nd album Midnight Sun on June 25th 2014 (more details) along with a simultaneous release of collaboration album UnChild with SawanoHiroyuki [nZk] aka Sawano Hiroyuki. Both albums landed in the top 10 – Midnight Sun at #9 and UnChild at #10 – on the weekly Oricon charts.
Anime Terror in Resonance (Zankyo no Terror), an original anime from studio MAPPA, is directed by Shinichiro Watanabe (Cowboy Bebop, Kids on the Slope, Space Dandy, Samurai Champloo) with character designs by Kazuto Nakazawa (Samurai Champloo), and Yoko Kanno provides the music. The anime's introduction reveals "On a summer day a massive terrorist bombing struck Tokyo. The culprits were just two boys who want to wake-up this complacent nation from its slumber. The boys known as "Sphinx" begin a grand game that engulfs all of Japan".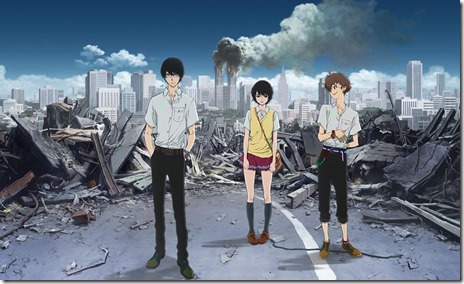 The anime began airing in Japan July 10th 2014 on Fuji TV in its Noitamina time slot. Outside of Japan provider Funimation.com simulcasts the series for North American fans. The anime's opening theme Trigger is a solo release by Yuuki Ozaki from Galileo Galilei with Yoko Kanno writing.
Aimer's new EP single Dareka, Umi wo comes on two editions (details subject to change). Limited features anime themed illustrated cover/slipcase. More details coming!
Preview video for track Hakuchuumu plus trailer for anime Terror in Resonance after the release details.
Aimer – Dareka, Umi wo (誰か、海を。) – release date September 3rd 2014
Limited [CD+DVD] (¥1667)


Regular [CD] (¥1389)


[CD]
1. Dareka, Umi wo (誰か、海を。)
2. Hakuchuumu (白昼夢)
3. undecided
4. undecided
5. undecided
6. Dareka, Umi wo (TV-size)
7. undecided
8. Dareka, Umi wo (off vocal)

[DVD]
1. textless ED Terror in Tokyo

[CD]
1. Dareka, Umi wo (誰か、海を。)
2. Hakuchuumu (白昼夢)
3. undecided
4. undecided
5. undecided
6. Dareka, Umi wo (TV-size)
7. undecided
8. Dareka, Umi wo (off vocal)
Zankyo no Terror (Terror in Resonance) official website