December 24, 2014
-
toyNN
Yui Horie (堀江由衣) provides the ending theme Stay With Me for upcoming anime DOG DAYS season 3. She also continues voicing the lead roll of Princess Millhoire in the fantasy-action romance anime. Single Stay With Me comes on two editions scheduled for release on March 4th 2015. Read on for more details and anime previews #3 and #4.
~ updated details and preview music video revealed ~
Popular voice actor and singer Yui Horie is getting ready to release 9th original album World End no Niwa (ワールドエンドの庭) on January 7th 2015 (more details). The album includes new song Stand Up! featured as theme song for smartphone game Shironeko Project plus features photobooklets and jacket covers shot on location in London and other UK locations.
Original anime DOG DAYS follows athletic but regular boy Izumi Shinku who is summoned to the world of Flonyard by Princess Millhoire of the Biscotti Republic. Overcoming the shock of being in a different world he learns his destiny as the hero to defend Biscotti from attacking neighboring countries. Season 3 (DOG DAYS'') continues the story 3 months after the events of season 2.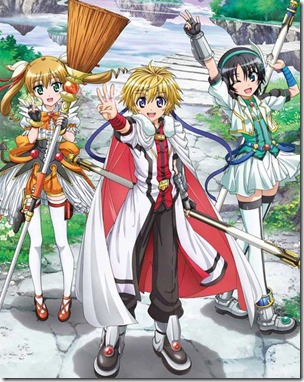 The anime features a strong cast in addition to Yui Horie – Mamoru Miyano (Izumi Shinku), Aoi Yuuki (Kuberu), Ayana Taketatsu (Éclair), Uesaka Sumire (Sharu), and Nana Mizuki (Ricotta Elmar). DOG DAYS" begins airing January 10th 2015 in Japan and outside of Japan provider Crunchyroll has season 1 & 2 available on-demand and will hopefully simulcast season 3 (not official).
Nana Mizuki provides the opening theme with song No Limit including on her 31st single Eden.
Single Stay With Me comes on two editions (details subject to change). Full track list, jacket covers, and bonus details coming!
TV CM spot #4 and #3 for anime DOG DAYS after the release details.
Yui Horie – Stay With Me – release date March 4th 2015
Limited [CD+DVD] (¥1800)


Regular [CD] (¥1200)


[CD]
1. Stay With Me
2. untitled
3. Stay With Me (off vocal)
4. untitled (off vocal)
[DVD]
1. Stay With Me (music video)
[CD]
1. Stay With Me
2. untitled
3. Stay With Me (off vocal)
4. untitled (off vocal)