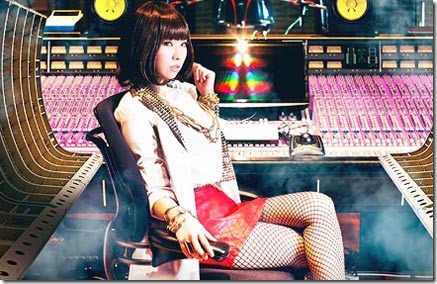 ZAQ updated the release details for new album NOISY Lab. – full track list, jacket covers and bonus details unveiled. Her 1st album includes her five singles all featured as anime opening theme songs plus new songs for 13 total tracks. Album NOISY Lab. hits stores on April 16th 2014 – updated release details and (updated) promo video follow.
Most recently ZAQ released her 5th single VOICE with tie-up as the opening theme for anime Love, Chunibyo & Other Delusions II (more details). Single VOICE hit stores January 29th 2014 and climbed into the #21 spot on the weekly Oricon charts.
ZAQ's other singles included on the album,
– 4th single, Extra Revolution (2013.11.23 OP Yu-Sibu)
– 3rd single, Gekijo Ron (2013.08.21, OP2 High School DxD NEW)
– 2nd single, Alteration (2013.01.23, OP Sasami-san@Ganbaranai)
– 1st single, Sparkling Daydream (2012.10.24, OP Love, Chunibyo & Other Delusions.)
Talented songwriter and singer ZAQ writes, composes, and arranges most of her songs as well as provide songs for other Lantis Records anisong artists. She launched as solo artists with single Sparkling Daydream and along with the opening theme ZAQ also wrote, arranged, and performed 4 insert songs for Love, Chunibyo & Other Delusions first season. She wrote both ending theme songs performed by the four main voice actresses under the name of Black Raison d'etre.
ZAQ is holding her first solo live event ZAQ First Live 2014 ~ Mikadzuki Kenkyujo ni Okeru Impulse Ron to Sore ni Tomonau Kousatsu ~. Planned for June 22nd, 2014 5:00pm at Japan Seinekan Great Hall Tokyo. Ticket information at her official website (link below).
Album NOISY Lab. comes on two editions with a purchase bonus album ID card and neck-strap available while supplies last at selected stores (Games, Sofmap, Tower, animate, Toranoana) check your store
TVCM spot (long ver.) with teaser music videos for new album follows below the release details.
ZAQ – NOISY Lab. – release date April 16th 2014
Limited [CD+DVD] (¥3500)

Regular [CD] (¥3000)

[CD]
1. overture -Crescentric Lab. noZ track-
2. fell the noiZ
3. Sparkling Daydream
4. VOICE
5. hypnotize
6. Gekijo Ron
7. Nai
8. Jiyuu to iu Riyuu
9. Play the ray
10. Alteration
11. Extra Revolution
12. ONE WAY ROAD!!
13. long for you
[DVD]
1. feel the noiZ (music video)
2. WORK OF "Play the ray"
[CD]
1. overture -Crescentric Lab. noZ track-
2. fell the noiZ
3. Sparkling Daydream
4. VOICE
5. hypnotize
6. Gekijo Ron
7. Nai
8. Jiyuu to iu Riyuu
9. Play the ray
10. Alteration
11. Extra Revolution
12. ONE WAY ROAD!!
13. long for you