February 23, 2015
-
toyNN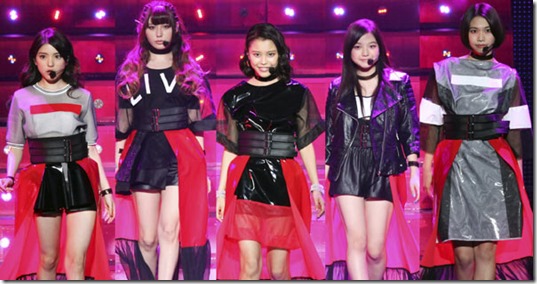 9nine announced their first release in near a year – their 13th single (HAPPY 7 DAYS) releases June 17th 2015. The single is planned for 3 editions plus a special bundled version with live event ticket. Read on for more early release details.
~ updated details ~
Most recently idol and performance unit 9nine released 3rd album MAGI9 PLAYLAND on June 18th 2014. The album includes 3 singles, new songs and more for 16 total tracks. Its been well over a year between singles for 9nine with their 12th single With You / With Me releasing March 12th 2014. The single has tie-up as the second ending theme for anime Magi – The Kingdom of Magic. Fans showed great support giving 9nine their highest weekly ranking at #4 on the weekly Oricon charts.
9nine is busy with live events and announced the first installment of 9nine Live Circuit 2015 with 11 performances planned plus a special final performance tied to their new single. More details at their website (link below),
– April 29th 2015 bigcat Osaka
– May 2nd 2015 Club Junk Box Sendai
– May 3rd 2015 Kashiwa palooza Chiba
– May 6th 2015 Club Quattro Nagoya
– May 10th 2015 Cube Garden Sapporo
– May 23rd 2015 junction Namiki
– May 24th 2015 MUSE Kyoto
– May 30th 2015 F.A.D. Yokohama
– May 31st 2015 Heaven's Rock Saitama
– June 7th 2015 NEXS Niigata
– June 13st 2015 DRUM Be-1 Fukuoka
– July 18th 2015 Hibiya Yaon (outdoor music hall) Tokyo. Live ticket + 13th single bundle
9nine's 13th single comes on three editions (details subject to change). Special bundle with live ticket includes special Regular edition of the single with different jacket cover and original postcard. The bundled version is only available to 9nine's fan club members (free membership).
Title, full track list, jacket covers, and more details coming!
9nine – 13th single (HAPPY 7 DAYS) – release date June 17th 2015
Limited A [CD+DVD] (¥1574)


Limited B [CD+Photobook] (¥1111)


[CD]
contents undecided
[DVD]
1. title song (music video)
2. undecided
[CD]
contents undecided
Regular [CD] (¥926)


Special Bundle [Live Ticket+CD] (¥5500)

[CD]
contents undecided