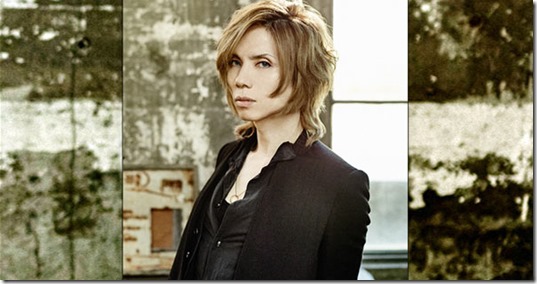 Acid Black Cherry (yasu) announced a several week delay of new album "L" (エル) release due to production problems. Their 4th album is now planned to include 4 singles plus new songs for 14 total tracks (up from original 13). Album "L" (エル) comes on three editions with revised release date February 25th 2015. Read on for all the release details.
The album originally planned for a February 4th 2015 release includes Acid Black Cherry's four singles released as part of Project Shangri-la,
– 19th single INCUBUS (2014.10.22)
– 18th single Kimi ga Inai, Anohi Kara… (君がいない、あの日から…) (2014.03.11)
– 17th single Kuroneko ~ Adult Black Cat ~ (2013.11.20)
– 16th single Greed Greed Greed (2013.08.07)
Project Shangri-la (August 2013 – June 2014) included 5 "seasons" plus an encore season with each having live performances, high-touch fan interaction meetings, and promotions tied to regions of Japan plus with single or other release. The 1st season hit 11 venues in Hokkaido and Tohoku areas beginning August 13th 2013 at Fukushima Cultural Hall. More details still available at special website (link below).
Album "L" (エル) comes on three editions (details subject to change). First Press of each edition comes in slipcover case – the Limited editions include a 100-page concept story booklet and Regular edition includes a 44-page photo booklet.
Additional First Press bonus at selected stores – Tsutaya:calendar, Tower Records: tin-badge (2), HMV:original book cover. Plus most other stores offer a b2-size notification poster as First Press bonus.
Preview music video for INCUBUS with new album teasers after release details.
Acid Black Cherry – "L" (エル) – release date February 25th 2015
Limited "Live" [CD+DVD] (¥4800)


Limited "Documentary" [CD+DVD] (¥4800)


[CD]
1. Round & Round
2. liar or LIAR?
3. エストエム
4. Kimi ga Inai, Anohi Kara…
5. L -エル-
6. Greed Greed Greed
7. 7 colors
8. ~ Le Chat Noir ~
9. Kuroneko ~ Adult Black Cat ~
10. versus G
11. Nemurenu Yoru
12. INCUBUS
13. Loves
14. & you
[DVD]
Project Shangri-la Encore Season arena tour – Nippon Budokan May 29th 2014

01 Greed Greed Greed 
02 Murder License 
03 楽園 
04 蝶 
05 1954 LOVE/HATE 
06 Kuroneko ~ Adult Black Cat ~
07 Kimi ga Inai, Anohi Kara… 
08 Maria 
09 so…Good night. 
10 Pistol 
11 罪と罰 ~神様のアリバイ~ 
12 Black Cherry 
13 Shangri-La 
【Encore】
14 doomsday clock 
15 scar 
16 SPELL MAGIC 
17 20+∞Century Boys

[CD]
1. Round & Round
2. liar or LIAR?
3. エストエム
4. Kimi ga Inai, Anohi Kara…
5. L -エル-
6. Greed Greed Greed
7. 7 colors
8. ~ Le Chat Noir ~
9. Kuroneko ~ Adult Black Cat ~
10. versus G
11. Nemurenu Yoru
12. INCUBUS
13. Loves
14. & you
[DVD]
1. Project Shangri-la documentary movie (approx. 60min)
2. Music videos
– INCUBUS
– Kimi ga Inai, Anohi Kara…
– Kuroneko ~ Adult Black Cat ~
– Greed Greed Greed
3. Project Shangri-La MC Best Selection – from first performance in Fukushima (2013.08.13) to final Miyagi performances (2014.06.22) 61 total performances MC selections (approx. 120min).
Regular [CD] (¥3000)


[CD]
1. Round & Round
2. liar or LIAR?
3. エストエム
4. Kimi ga Inai, Anohi Kara…
5. L -エル-
6. Greed Greed Greed
7. 7 colors
8. ~ Le Chat Noir ~
9. Kuroneko ~ Adult Black Cat ~
10. versus G
11. Nemurenu Yoru
12. INCUBUS
13. Loves
14. & you
Acid Black Cherry Official site (avex)
Acid Black Cherry official site