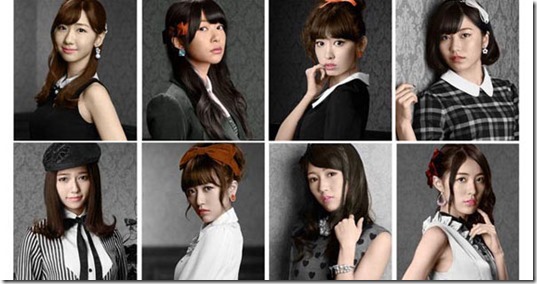 AKB48 continues their 10th anniversary celebrations with single Green Flash. The single's planned for 4-pairs of editions with each set featuring a different coupling track with senbatsu members from AKB48, SKE48, NMB48, and HKT48 respectively. Single Green Flash comes on a total of 8 editions plus a theater version all releasing March 4th 2015. Read on for more details.
~ jacket covers and preview revealed ~
Each edition of the new single also includes a different main coupling track,
– Type A includes Majisuka Fight featured as the opening theme for 4th season of fight-drama Majisuka Gakuen. The show features the idols of AKB as tough "yankee" high school girls battling their way to the top. Miyawaki Sakura and Shimazaki Haruka star along with many AKB48, SKE48, NMB48, and HTK48 members.
– Type S includes Yankee Rock featured as the ending theme for Majisuak Gakuen 4.
– Type N includes Hakimono to Kasa no Monogatari has tie-up as NHK TV's Minna to Uta during February and March 2015. Show Minna to Uta (Everyone's Songs) is a 5 minute filler program broadcast several times a day. Performing the song is Takahashi Minami, Kojima Haruna, Watanabe Mayu, Shimazaki Haruka, Matsui Jurina, Sashihara Rino, Kashiwagi Yuki, and Yokoyama Yui.
– Type H will include a Team 8 song.
Single Green Flash comes on 8 edition plus a theater CD-only version. The Limited editions feature different jacket covers and include handshake event ticket. All editions include bonus member photo.
Full track list, jacket covers, and more details coming!
Minna to Uta episode featuring Hakimono to Kashi no Monogatari after the release details.
AKB48 – Green Flash – release date March 4th 2015
Limited A [CD+DVD] (¥1524)


Regular A [CD+DVD] (¥1524)


[CD]
1. Green Flash
2. Majisuka Fight (OP Majisuka Gakuen 4)
3. undecided AKB48 senbatsu
4. Green Flash (off vocal)
5. Majisuka Fight (off vocal)
6. undecided (off vocal)
[DVD]
1. Green Flash (music video)
2. Majisuka Fight (music video)
3. undecided AKB48 senbatsu (music video)
[CD]
1. Green Flash
2. Majisuka Fight (OP Majisuka Gakuen 4)
3. undecided AKB48 senbatsu
4. Green Flash (off vocal)
5. Majisuka Fight (off vocal)
6. undecided (off vocal)
[DVD]
1. Green Flash (music video)
2. Majisuka Fight (music video)
3. undecided AKB48 senbatsu (music video)
Limited S [CD+DVD] (¥1524)


Regular S [CD+DVD] (¥1524)


[CD]
1. Green Flash
2. Yankee Rock (ED Majisuka Gakuen 4)
3. undecided SKE48 senbatsu
4. Green Flash (off vocal)
5. Yankee Rock (off vocal)
6. undecided (off vocal)
[DVD]
1. Green Flash (music video)
2. Yankee Rock (music video)
3. undecided SKE48 senbatsu (music video)
[CD]
1. Green Flash
2. Yankee Rock (ED Majisuka Gakuen 4)
3. undecided SKE48 senbatsu
4. Green Flash (off vocal)
5. Yankee Rock (off vocal)
6. undecided (off vocal)
[DVD]
1. Green Flash (music video)
2. Yankee Rock (music video)
3. undecided SKE48 senbatsu (music video)
Limited N [CD+DVD] (¥1524)


Regular N [CD+DVD] (¥1524)


[CD]
1. Green Flash
2. Hakimono to Kasa no Monogatari (Feb-Mar. Minna no Uta)
3. undecided NMB48 senbatsu
4. Green Flash (off vocal)
5. Hakimono to Kasa no Monogatari (off vocal)
6. undecided (off vocal)
[DVD]
1. Green Flash (music video)
2. Hakimono to Kasa no Monogatari (music video)
3. undecided NMB48 senbatsu (music video)
[CD]
1. Green Flash
2. Hakimono to Kasa no Monogatari (Feb-Mar. Minna no Uta)
3. undecided NMB48 senbatsu
4. Green Flash (off vocal)
5. Hakimono to Kasa no Monogatari (off vocal)
6. undecided (off vocal)
[DVD]
1. Green Flash (music video)
2. Hakimono to Kasa no Monogatari (music video)
3. undecided NMB48 senbatsu (music video)
Limited H [CD+DVD] (¥1524)


Regular H [CD+DVD] (¥1524)


[CD]
1. Green Flash
2. undecided Team 8
3. undecided HKT48 senbatsu
4. Green Flash (off vocal)
5. undecided (off vocal)
6. undecided (off vocal)
[DVD]
1. Green Flash (music video)
2. undecided Team 8 (music video)
3. undecided HKT48 senbatsu (music video)
[CD]
1. Green Flash
2. undecided Team 8
3. undecided HKT48 senbatsu
4. Green Flash (off vocal)
5. undecided (off vocal)
6. undecided (off vocal)
[DVD]
1. Green Flash (music video)
2. undecided Team 8 (music video)
3. undecided HKT48 senbatsu (music video)