November 25, 2015
-
toyNN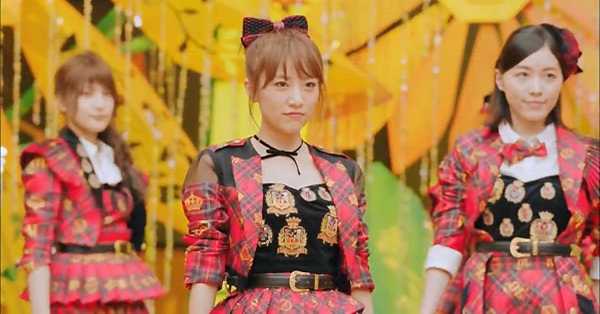 AKB48 revealed preview music videos for 42nd single Kuchibiru ni Be My Baby (唇にBe My Baby). The single features graduating original member and AKB48-group General Manager Takahashi Minami as center. Single Kuchibiru ni Be My Baby comes on 4-pairs of editions plus a theater version all hitting stores December 9th 2015. Release details and preview music videos follow.
Mega-idol group AKB48 celebrates their 10th anniversary this year and just released a singles greatest hits album 0 to 1 no Aida (0と1の間). The re-mastered album songs feature key graduated members returning to participate. The album released November 18th 2015 and easily topped the charts with over 650,000 copies sold.
Takahashi Minami (Takamina) joined AKB48 as one of the original Team A members in 2005 at the age of 14. She was the group's original center for debut single Sakura no Hanabiratachi and shared center with Maeda Atsuko on six other group singles.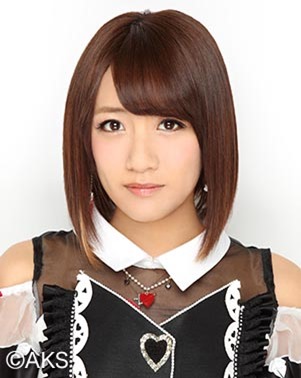 She gained the title of group Soukantoku (General Manager) and with members Minegishi Minami and Kojima Haruna form sub-unit No Sleeves (no3b) which as released nine singles. Takahashi Minami announced her graduation during their 9th anniversary performance December 8th 2014. Originally planned to coincide with the group's 10th anniversary performances in December 2015 but will now happen at the end of March 2016 with final theater performance March 28th 2016.
Single Kuchibiru ni Be My Baby  comes on four pairs of editions plus a theater version. Limited editions include handshake event ticket and Regular editions include member photo(s). All editions include voting cards for their upcoming Set List Best 100 2016 and the AKB48 One-Group Request Hour plus lottery ticket application for special Takahashi Minami produced Theater performances.
Preview music videos for title song plus Team 8 song Ama Nojaku Batta both after the release details.
AKB48 – Kuchibiru ni Be My Baby – release date December 9th 2015
Limited A [CD+DVD] (¥1524)


Regular A [CD] (¥1524)


[CD]
1. Kuchibiru ni Be My Baby
2. 365 Nichi no Kamihikouki
3. Kimi wo Kimi wo Kimi wo
4. Yasashii Place
5. Kuchibiru ni Be My Baby (off vocal)
6. 365 Nichi no Kamihikouki (off vocal)
7. Kimi wo Kimi wo Kimi wo (off vocal)
8. Yasashii Place (off vocal)

[DVD]
1. Kuchibiru ni Be My Baby (music video)
2. 365 Nichi no Kamihikouki (music video)
3. Kimi wo Kimi wo Kimi wo (music video)
4. Yasashii Place (music video)
5. WORDS ~ Takahashi Minami words of wisdom

[CD]
1. Kuchibiru ni Be My Baby
2. 365 Nichi no Kamihikouki
3. Kimi wo Kimi wo Kimi wo
4. Yasashii Place
5. Kuchibiru ni Be My Baby (off vocal)
6. 365 Nichi no Kamihikouki (off vocal)
7. Kimi wo Kimi wo Kimi wo (off vocal)
8. Yasashii Place (off vocal)

[DVD]
1. Kuchibiru ni Be My Baby (music video)
2. 365 Nichi no Kamihikouki (music video)
3. Kimi wo Kimi wo Kimi wo (music video)
4. Yasashii Place (music video)
5. WORDS ~ Takahashi Minami words of wisdom

Limited B [CD+DVD] (¥1524)


Regular B [CD] (¥1524)


[CD]
1. Kuchibiru ni Be My Baby
2. 365 Nichi no Kamihikouki
3. Madonna no Sentaku
4. Oneesan no Hitorigoto
5. Kuchibiru ni Be My Baby (off vocal)
6. 365 Nichi no Kamihikouki (off vocal)
7. Madonna no Sentaku (off vocal)
8. Oneesan no Hitorigoto (off vocal)

[DVD]
1. Kuchibiru ni Be My Baby (music video)
2. 365 Nichi no Kamihikouki (music video)
3. Oneesan no Hitorigoto (music video)
4. Oneesan no Hitorigoto (music video)
5. PARTY no Sonosakihe Takahashi Minami Sotsugyou Interview
       

[CD]
1. Kuchibiru ni Be My Baby
2. 365 Nichi no Kamihikouki
3. Madonna no Sentaku
4. Oneesan no Hitorigoto
5. Kuchibiru ni Be My Baby (off vocal)
6. 365 Nichi no Kamihikouki (off vocal)
7. Madonna no Sentaku (off vocal)
8. Oneesan no Hitorigoto (off vocal)

[DVD]
1. Kuchibiru ni Be My Baby (music video)
2. 365 Nichi no Kamihikouki (music video)
3. Oneesan no Hitorigoto (music video)
4. Oneesan no Hitorigoto (music video)
5. PARTY no Sonosakihe Takahashi Minami Sotsugyou Interview

Limited C [CD+DVD] (¥1524)


Regular C [CD] (¥1524)


[CD]
1. Kuchibiru ni Be My Baby
2. 365 Nichi no Kamihikouki
3. Ama Nojaku Batta
4. Kin no Hane wo Motsu Hito yo
5. Kuchibiru ni Be My Baby (off vocal)
6. 365 Nichi no Kamihikouki (off vocal)
7. Ama Nojaku Batta (off vocal)
8. Kin no Hane wo Motsu Hito yo (off vocal)

[DVD]
1. Kuchibiru ni Be My Baby (music video)
2. 365 Nichi no Kamihikouki (music video)
3. Ama Nojaku Batta  (music video)
4. Kin no Hane wo Motsu Hito yo (music video)
5. Teramina ~ 812TBytes Kara Gensen Shita Takahashi Minami Kessaku-shu
       

[CD]
1. Kuchibiru ni Be My Baby
2. 365 Nichi no Kamihikouki
3. Ama Nojaku Batta
4. Kin no Hane wo Motsu Hito yo
5. Kuchibiru ni Be My Baby (off vocal)
6. 365 Nichi no Kamihikouki (off vocal)
7. Ama Nojaku Batta (off vocal)
8. Kin no Hane wo Motsu Hito yo (off vocal)

[DVD]
1. Kuchibiru ni Be My Baby (music video)
2. 365 Nichi no Kamihikouki (music video)
3. Ama Nojaku Batta  (music video)
4. Kin no Hane wo Motsu Hito yo (music video)
5. Teramina ~ 812TBytes Kara Gensen Shita Takahashi Minami Kessaku-shu

Limited D [CD+DVD] (¥1524)


Regular D [CD] (¥1524)


[CD]
1. Kuchibiru ni Be My Baby
2. 365 Nichi no Kamihikouki
3. Senaka Kotoba
4. Nanka, Chotto, Kyuu ni
5. Kuchibiru ni Be My Baby (off vocal)
6. 365 Nichi no Kamihikouki (off vocal)
7. Senaka Kotoba (off vocal)
8. Nanka, Chotto, Kyuu ni (off vocal)

[DVD]
1. Kuchibiru ni Be My Baby (music video)
2. 365 Nichi no Kamihikouki (music video)
3. Senaka Kotoba (music video)
4. Nanka, Chotto, Kyuu ni (music video)
5. Tabidatsu-kune ~ Takahashi Minami ~ AKB48 members comment collection
       

[CD]
1. Kuchibiru ni Be My Baby
2. 365 Nichi no Kamihikouki
3. Senaka Kotoba
4. Nanka, Chotto, Kyuu ni
5. Kuchibiru ni Be My Baby (off vocal)
6. 365 Nichi no Kamihikouki (off vocal)
7. Senaka Kotoba (off vocal)
8. Nanka, Chotto, Kyuu ni (off vocal)

[DVD]
1. Kuchibiru ni Be My Baby (music video)
2. 365 Nichi no Kamihikouki (music video)
3. Senaka Kotoba (music video)
4. Nanka, Chotto, Kyuu ni (music video)
5. Tabidatsu-kune ~ Takahashi Minami ~ AKB48 members comment collection

Theater [CD] (¥1000)
        
[CD]
1. Kuchibiru ni Be My Baby
2. 365 Nichi no Kamihikouki
3. Sakki Made wa Ice Tea
4. Nanka, Chotto, Kyuu ni
5. Kuchibiru ni Be My Baby (off vocal)
6. Sakki Made wa Ice Tea (off vocal)
Preview music video plus comments from Takahashi Minami and Yokoyama Yui