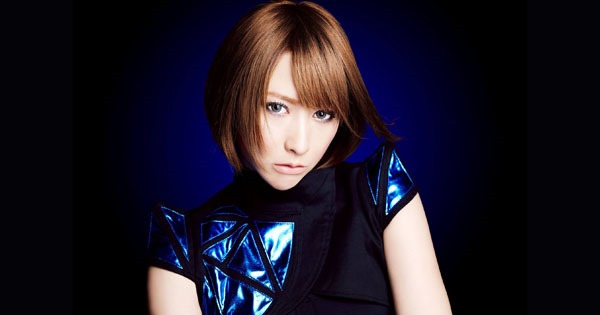 Aoi Eir (藍井エイル) updated the release details for new album D'AZUR – jacket covers, full track list, more details revealed. Her 3d album includes 14 tracks and Aoi Eir write the lyrics for 9 of the songs. Album D'AZUR comes on three editions set for release on June 24th 2015. Updated details follow.
Singer and songwriter Aoi Eir (Eir Aoi) released 2nd album AUBE about a year and a half ago on January 29th 2014. Her new album includes her four singles and one limited release digital single released since,
– 10th Lapis Lazuli (ラピスラズリ) (2015.04.22) ED anime The Heroic Legend of Arslan (Arslan Senki).
– 9th GENESIS (2015.02.18) ED season 2 anime Aldnoah.ZERO.
– 8th Tsunagaru Omoi (ツナガルオモイ) (2014.11.14) theme TBS TV show Rank Oukoku (Rank Kingdom).
– 7th IGNITE (2014.08.20) OP anime Sword Art Online Phantom Bullet (SAO II).
– digital download Cynthia no Hikari (2015.03.25) OP game Sword Art Online – Lost Song
She is also about to start the live tour Eir Aoi LIVE TOUR 2015 – BEYOND THE LAPIS – planned for 9 performances (4 sold out),
– May 24th 2015 4:30pm DARWIN Sendai (sold out)
– May 30th 2015 4:30pm club GRINDHOUSE Tokushima (sold out)
– May 31st 2015 4:30pm vanvan V4 Kanazawa (sold out)
– June 4th 2015 6:30pm Namiki Junction Hiroshima (sold out)
– June 7th 2015 4:00pm Namba Hatch Osaka
– June 10th 2015 6:15pm Bottom Line Nagoya
– June 14th 2015 4:15pm DRUM LOGOS Fukuoka
– June 18th 2015 6:30pm PENNY LANE 24 Sapporo
– June 27th 2015 4:00pm Toyosu PIT
Aoi Eir also has additional world wide performances planned for anime conventions in Paris, France (July 2nd 2015), London, England (July 10th 2015), San Francisco USA (August 7th 2015). More details at special website (link below).
Album D'AZUR comes on three editions sharing the same jacket cover. Limited A and B include 48-page photo booklet themed "The Blue Nightmare", slipcover, and photo card (varies by edition). First Press Regular edition includes photo card.
TVCM spots for new album D'AZUR and 10th single Lapis Lazuli after the release details.
Aoi Eir – D'AZUR – release date June 24th 2015
Limited A [CD+BD] (¥3704)


Limited B [CD+DVD] (¥3426)


[CD]
1. awakening
music: Atsushi

2. IGNITE
lyrics: Eir Aoi with Tomoyuki Ogawa, composer: Tomoyuki Ogawa, arrangement: Saku

3.  Lapis Lazuli
lyrics: Aoi Eir, Kato Yusuke, music: Kato Yusuke

4. Yuari
lyrics, music: Yasuda Takahiro

5. Cynthia no Hikari
lyrics, music: Arai Koki

6. Quit
lyrics: Aoi Eir, music: Atsushi

7. Bright Future
lyrics: Aoi Eir, music: Kurosu Katsuhiko

8. JUMP!!
lyrics: Aoi Eir, music: Masutani Ken

9. Genei
lyrics: Aoi Eir, Otsuka Rie, music: Tsunami Kohei

10. Zutto Soba de
lyrics: Aoi Eir, Saku, music: Saku

11. GENESIS
lyrics: Karasawa Miho, composer: Maruyama Mayuko, arranger: Sato Atsushi, Shimizu Takehito

12. Tsunagaru Omoi
lyrics, composer: Aoi Eir, arrangement: Shun MIzuki, Eiichirou Ishizuka

13. Ao no Sekai
lyrics: Aoi Eir, music: Shigenaga Ryosuke

14. BREAK OUT! (bonus track)
lyrics,composer: Oda Tetsuro, arranger: Atsushi

[BD]
1. IGNITE
2. Tsunagaru Omoi
3. GENESIS
4. Lapis Lazuli 
5. Cynthia no Hikari
6. album D'AZUR making-of documentary

[CD]
1. awakening
2. IGNITE
3.  Lapis Lazuli
4. Yuari
5. Cynthia no Hikari
6. Quit
7. Bright Future
8. JUMP!!
9. Genei
10. Zutto Soba de
11. GENESIS
12. Tsunagaru Omoi
13. Ao no Sekai
14. BREAK OUT! (bonus track)
[DVD]
1. IGNITE
2. Tsunagaru Omoi
3. GENESIS
4. Lapis Lazuli 
5. Cynthia no Hikari
6. album D'AZUR making-of documentary
Regular [CD] (¥2778)


[CD]
1. awakening
2. IGNITE
3.  Lapis Lazuli
4. Yuari
5. Cynthia no Hikari
6. Quit
7. Bright Future
8. JUMP!!
9. Genei
10. Zutto Soba de
11. GENESIS
12. Tsunagaru Omoi
13. Ao no Sekai
14. BREAK OUT! (bonus track)