September 5, 2015
-
toyNN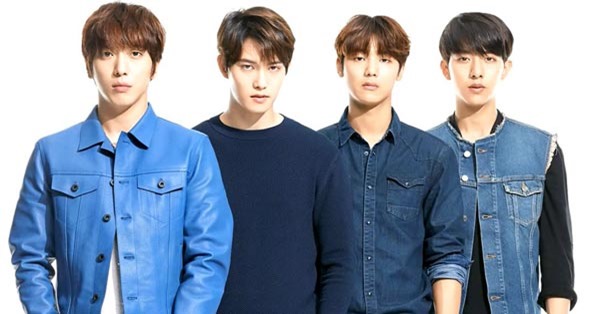 CNBLUE is getting ready to release new Japanese album colors and updated the track list plus unveiled a members message and song digest video. Their 4th Japanese album includes songs from single WHITE plus 9 new songs for 11 total tracks. Album colors comes on three editions plus a fan club version all hitting stores September 30th 2015.
Korean rock band CNBLUE is also about to release their 2nd Korean album 2gether on September 14th 2015. Its been over a year and a half since the band released in Korea.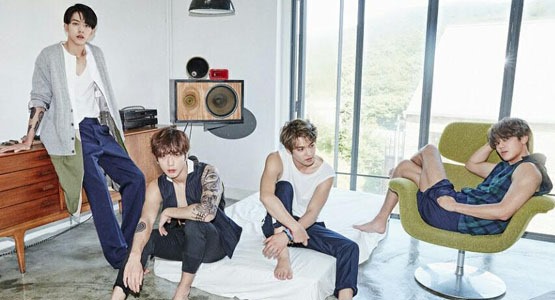 The band also revealed dates for their upcoming arena tour that hits 5 venues and 9 performances – CNBLUE 2015 ARENA TOUR ~ Be a Supernova ~
2015.11.3  Nagano Big Hat (Nagano)
2015.11.5 & 11.6 Yoyogi National Stadium first gymnasium (Tokyo)
2015.11.12 & 11.13 NGK Insulators Hall (Aichi)
2015.11.15 Sun Dome Fukui (Fukui)
2015.11.25 & 11.26 Osaka Castle Hall (Osaka)
2015.12.3 Nippon Budokan (Tokyo)
Album colors comes on four editions. Each edition (Regular First Press) includes application code and fans submitting codes from 3 of 4 editions will be in drawing for memorial photo session with meet & greet for each day of their upcoming arena tour (100 people each day for a total of 900 people invited).
Message from members and song digest video after release details
CNBLUE – colors – release date September 30th 2015
Limited A [CD+DVD] (¥3800)


Limited B [CD] (¥3800)


[CD]
1. Intro
2. Supernova        
3. WHITE
4. holiday
5. hold my hands
6. IRONY
7. realize
8. Daisy
9. Lucid dream
10. hold me
11. My world

[DVD]
1. Supernova (music video)
2. making-of music video footage
3. Supernova solo shot (music video)

[CD]
1. Intro
2. Supernova        
3. WHITE
4. holiday
5. hold my hands
6. IRONY
7. realize
8. Daisy
9. Lucid dream
10. hold me
11. My world

[DVD]
LIVE from ROCK NATION 2014.8.15 [first half] 1.Ryu Can Do It
2.In My Head
3.Wake up
4.Coffee shop
5.I'm sorry

Regular [CD] (¥3000)


Fanclub BOICE [CD+DVD] (¥3000)

[CD]
1. Intro
2. Supernova        
3. WHITE
4. holiday
5. hold my hands
6. IRONY
7. realize
8. Daisy
9. Lucid dream
10. hold me
11. My world
[CD]
1.Intro
2. Supernova        
3. WHITE
4. holiday
5. hold my hands
6. IRONY
7. realize
8. Daisy
9. Lucid dream
10. hold me
11. My world

[DVD]

1. LIVE from ROCK NATION 2014.8.15 [second half]
– Lady
– Can't Stop
2. DIGEST from BOICE NATSUMATSURI 2015
CNBLUE Official website (Japanese)