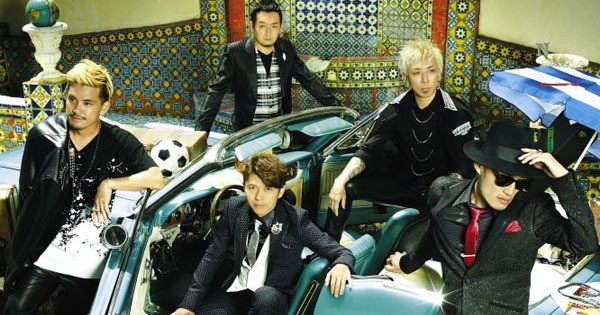 FLOW revealed more details for new single Niji no Sora (虹の空) – jacket covers, full track list, and preview music video unveiled. Their 28th single has tie-up as 34th ending theme for anime NARUTO Shippūden. Coupling track Hikari Oikakete (光追いかけて) is used as image song for the Live Spectacle NARUTO stage play. Single Niji no Sora comes on three editions hitting stores August 12th 2015.
Rock band FLOW has long been associated with anime NARUTO anime franchise providing the 4th opening theme GO!!! and 8th opening theme Re:member for original series plus NARUTO Shippuden's 6th opening theme Sign and NARUTO Shōnen Hen's 2nd opening theme SUMMER FREAK.
Long running anime NARUTO Shippuden is adapted from manga by Kishimoto Masashi and follows the story of Uzumaki Naruto and the rest of the Konoha ninja. The original NARUTO anime aired from 2002 with 220 episodes and continues as NARUTO Shippuden starting in 2007 with 419+ episodes aired.
The anime airs on TV Tokyo in Japan and simulcast on several providers outside of Japan including Crunchyroll. Check our Crunchyroll new episodes page or hit the link for NARUTO Shippūden for episodes and related stories.
Ending theme Niji no Sora started airing July 2nd 2015 with episode 418.
Single Niji no Sora comes on three editions (details subject to change). Limited "Anime" has illustrated jacket cover and only available through September 2015. Jacket cover coming for anime edition.
Preview music video after release details
FLOW – Niji no Sora (虹の空) – release date August 12th 2015
Limited [CD+DVD] (¥1528)


Limited Pressing "Anime" [CD] (¥1296)


[CD]
1. Niji no Sora
2. Hikari Oikakete
3. connection
4. Hikari Oikakete feat Kodai Matsuoka
5. Niji no Sora (off vocal)
[DVD]
1. Niji no Sora (music video)
2. Hikari Oikakete feat Kodai Matsuoka – recording documentary
3. FLOW World Tour 2014 Thailand, Taiwan documentary
[CD]
1. Niji no Sora
2. Hikari Oikakete
3. FLOW x Naruto OP/ED Collection
4. Niji no Sora (TV-size)
5. Niji no Sora (off vocal)
Regular [CD] (¥926)


[CD]
1. Niji no Sora
2. Hikari Oikakete
3. connection
4. Hikari Oikakete feat Kodai Matsuoka
5. Niji no Sora (off vocal)