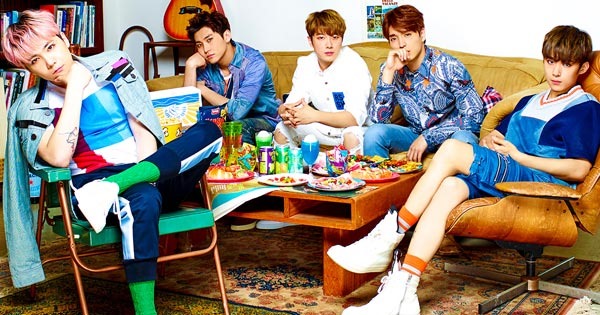 FTISLAND revealed details for new Japanese single PUPPY that continues their 5th anniversary celebrations. Their 15th single comes on three editions plus a fan club version. Single PUPPY is scheduled for release on September 16th 2015.
Most recently Korean rock band FTISLAND released Japanese album 5….GO on May 13th 2015. They also just completed the FTISLAND 5th Anniversary Arena Tour 2015 "5 ….. GO" that hit four major venues with five total performances. The final performance held July 20th 2015 at Yokohama Arena.
FTISLAND 5th Anniversary Autumn Tour 2015 Where's my PUPPY? tied to their new single is planned for 8 cities and 13 performances in Japan. Fan club members can order tickets for lottery to pre-concert meetings starting July 29th 2015.
2015.9.28 & 9.29 Zepp Nagoya (Aichi)
2015.10.1 & 10.2 Zepp Tokyo (Tokyo)
2015.10.6 Niigata Prefectural Civic Center Great Hall (Niigata)
2015.10.8 & 10.9 Zepp Namba (Osaka)
2015.10.13 & 10.14 Zepp Fukuoka (Fukuoka)
2015.10.20 Zepp Sapporo (Hokkaido)
2015.10.23 Sendai Sun Plaza Hall (Miyagi)
2015.10.25 Hiroshima Bunka Gakuen HBG Hall (Hiroshima)
2015.10.29 Nippon Budokan (Tokyo)
Single PUPPY comes on four editions (details subject to change).
FTISLAND – PUPPY – release date September 16th 2015
Limited A [CD+DVD] (¥2000)


Limited B [CD] (¥2000)


[CD]
1. PUPPY
2. Cycle
3. Parallel World
4. Cycle (off vocal)

[DVD]
1. PUPPY (music video)
2. PUPPY (in the studio)
3. PUPPY (making-of music video)
4. PUPPY (jacket cover photo shoot)

[CD]
1. PUPPY
2. Cycle
3. Parallel World
4. Parallel World (off vocal)

[DVD]
ROCK Nation 2014.8.15 (live)
– BE FREE
– TOP SECRET
– Beautiful
– Last Love Song
– BEAT IT
– Shinin' On
– FREEDOM

Regular [CD] (¥1200)


Primadona Fanclub [CD+DVD] (¥2000)

[CD]
1. PUPPY
2. Cycle
3. Parallel World
4. PUPPY (off vocal)
[CD]
1. PUPPY
2. Cycle
3. Parallel World
4. PUPPY (off vocal)

[DVD]
Fan Meeting 2015
– STAY
– Hidoku
– I wish
– Negau
– To The Light
– Shinin' On
– FREDDOM
FTISLAND Official website (Japan)
FTISLAND at Warner Music Japan