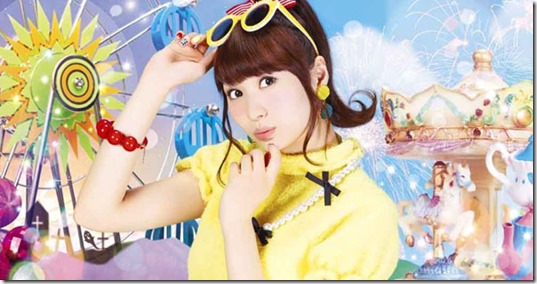 Haruka Tomatsu (戸松遥) releases 3rd album Harukarisk*Land on March 18th 2015. She just revealed the jacket covers for the new album which includes 4 singles and new songs including lead track Koi wo Uchinuke (恋ヲウチヌケ). Album Harukarisk*Land comes on two editions – updated details follow.
Voice actor and singer Haruka Tomatsu (24) is also a member of popular unit Sphere, with other voice actors Minako Kotobuki, Aki Toyosaki, and Ayahi Takagaki. They just released 5th anniversary best album "sphere" plus simultaneously released 16th single Jounetsu CONTINUE (情熱CONTINUE) all on February 11th 2015.
Haruka Tomatsu most recently released 14th single "courage" on December 3rd 2014 with tie-up as the second opening theme for anime Sword Art Online season 2 (SAO II). She continues voice key character Asuna in the world-wide popular anime.
In addition to her newest single album Harukarisk*Land includes,
– 13th single Fantastic Soda!! (2014.07.30),
– 12th single Hikari Gift (2014.01.15),
– 11th single PACHI PACHI PARTY (2013.07.10).
Her 3rd live tour has been announced for for summer – tickets went on-sale February 14th 2015,
– June 21st 2015 Omiya Sonic City
– July 5th 2015 Utsunomiya Bunka Kaikan
– July 18th 2015 Orix Theater Osaka
– July 20th 2015 Tokyo Internation Forum Hall A
– August 8th 2015 Shimizu Cultural Center Shizuoka
– August 15th 2015 Fukuoka International Congress Hall
– August 23rd 2015 Aichi Prefectural Art Theater
Album Harukarisk*Land comes on two editions. Limited includes awards application flyer with ID, sleeved case, popup card and photo booklet. Regular First Press includes awards application flyer with ID. Selected stores offer calendar-poster purchase bonus (animate, Gamers, Sofmap, Tower Records, and more) check your store for availability.
Album announcement video from Haruka Tomatsu after the release details.
Haruka Tomatsu – Harukarisk*Land – release date March 18th 2015
Limited [CD+DVD] (¥3333)


Regular [CD] (¥2870)


[CD]
1. Fan Fun Parade
2. courage
3. Love ♡ Roller Coaster
4. No. 1 Girl
5. Tomorrow
6. Fantastic Soda!!
7. Attention Please
8. PACHI PACHI PARTY
9. Get you!!
10. Marirarerura
11. In OurHands
12. Hikari Gift
13. Koi wo uchinuke 
[DVD]
1. Koi wo uchinuke (music video)
2. Jacket cover photo shoot
[CD]
1. Fan Fun Parade
2. courage
3. Love ♡ Roller Coaster
4. No. 1 Girl
5. Tomorrow
6. Fantastic Soda!!
7. Attention Please
8. PACHI PACHI PARTY
9. Get you!!
10. Marirarerura
11. In OurHands
12. Hikari Gift
13. Koi wo uchinuke 
Haruka Tomatsu Official website