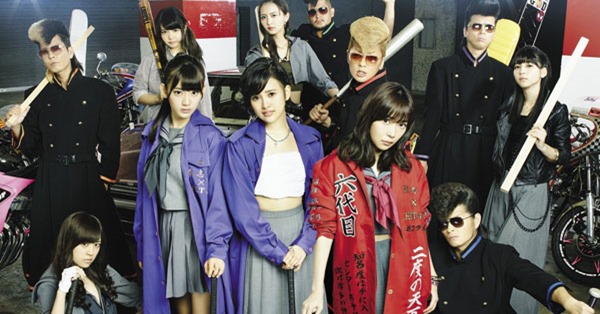 HKT48 updated the details for new single Shekarashika! (しぇからしか!) featuring band Kishidan – jacket covers, full track list, and preview music video unveiled. Their 6th single is featured as theme song for special Majisuka Gakuen 0 Kisarazu Brawl-hen featuring HKT48 and Kishidan as adversaries. Single Shekarashika! comes on four editions hitting stores November 25th 2015.
The Majisuka Gakuen spin-off Majisuka Gakuen 0 Kisarazu Brawl-hen (マジすか学園0 木更津乱闘編) is a prequel of Majisuka Gakuen 4. Its set at high school of characters Sakura (Miyawaki Sakura) and Katsuzetsu (Kodama Haruka) before their transfer to Majisuka Gakuen.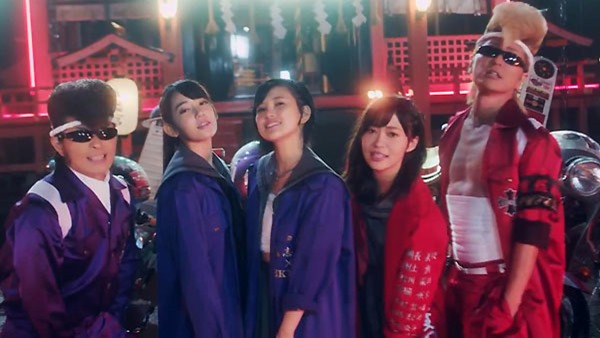 Its set to air November 28th 2015 25:05-25:35 on NTV Japan and will also stream on Hulu at a yet to be announced date. The special episode is also included on the single's Limited A edition DVD.
AKB48 sister unit HTK48 based out of Hakata Fukuoka most recently released 5th single 12-byou (12-seconds) on April 22nd 2015. Japanese rock band Kishidan (氣志團) formed in 1997 with a retro high-school gang image. Their songs and performances are done with humor and a nostalgic fondness for honorable values.
HKT48 members performing on the single's title track and main coupling track,
Anai Chihiro, Kojina Yui, Ota Aika, Moriyasu Madoka, Yabuki Nako, Matsuoka Natsumi, Motomura Aoi, Miyawaki Sakura, Fuchigami Mai, Tanaka Miku, Tashima Meru, Tomonaga Mio, Kodama Haruka, *Sakaguchi Riko, *Yamashita Emiri, and Sashihara Rino
*first time senbatsu
Single Shekarashika! comes on four editions. First Press versions include hand-shake event ticket plus pocket-size calendar (1 of 16) and member photo (1 of many). Limited C coupling track Ijiwaru Chuu (Yabuki Nako solo) is first solo track for an HKT48 member.
Preview music video after the release details.
HKT48 – Shekarashika! (しぇからしか!) – release date November 25th 2015
Limited A [CD+DVD] (¥1524)


Limited B [CD+DVD] (¥1524)


[CD]
1. Shekarashika!
2. Tasogare no Tandem
3. Buddy (team H) 
4. Shekarashika! (off vocal)
5. Tasogare no Tandem (off vocal)
6. Buddy (off vocal)

[DVD]
1. Shekarashika! (music video)
2. Buddy (music video)
3. Majisuka Gakuen 0 Kisaradzu Brawl special episode
4. Shekarashika! making-of music video

[CD]
1. Shekarashika!
2. Tasogare no Tandem
3. Yumemiru Chimu (team KIV) 
4. Shekarashika! (off vocal)
5. Tasogare no Tandem (off vocal)
6. Yumemiru Chimu (off vocal)

[DVD]
1. Shekarashika! (music video)
2. Yumemiru Chimu (music video)
3. HKT48 Unity BBQ Tournament (part 1)

Limited C [CD+DVD] (¥1524)


Theater [CD] (¥952)

[CD]
1. Shekarashika!
2. Tasogare no Tandem
3. Ijiwaru Chuu  (Yabuki Nako solo)
4. Shekarashika! (off vocal)
5. Tasogare no Tandem (off vocal)
6. Ijiwaru Chuu (off vocal)

[DVD]
1. Shekarashika! (music video)
2. Ijiwaru Chuu (music video)
3. HKT48 Unity BBQ Tournament (part 2)

[CD]
1. Shekarashika!
2. Tasogare no Tandem
3. Koi no Yubisaka
4. Shekarashika! (off vocal)
5. Tasogare no Tandem (off vocal)
6. Koi no Yubisaka (off vocal)
Majisuka Gakuen 5 trailer