November 25, 2015
-
toyNN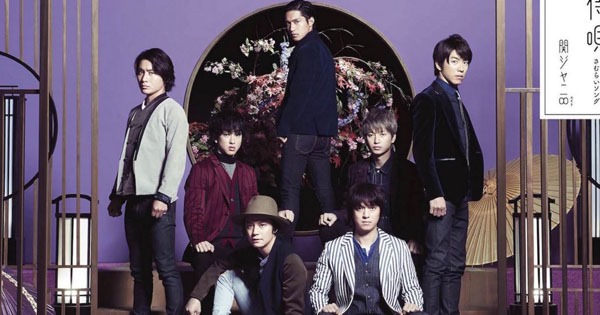 KANJANI8 (関ジャニ∞) revealed more details for new single Samurai Song (侍唄) – full track list, jacket covers, and more unveiled. Their 33rd single has tie-up as theme song for TV Asahi drama Samurai Sensei staring member Ryo Nishikido. Single Samurai Song comes on two editions releasing December 2nd 2015.
Popular unit KANJANI8 most recently released 9th album KANJANI8 no Genki ga Deru CD!! (関ジャニ∞の元気が出るCD!!, Uplifting CD of Kanjani8!!) on November 11th 2015. The album contains singles, new songs, a song written and composed by members plus special unit songs. It easily topped the charts with over 315,000 copies sold and gave the group their 9th #1 album (original & compilation).
Single Samurai Song (侍唄, Samurai Uta) comes on two editions and most stores offer a bundled set. Limited includes deluxe case and campaign application flyer. Regular First Press adds jacket size sticker plus the campaign application flyer.
Campaign application is connected with their 9th album – details on flyer (requires applications from multiple editions of each).
KANJANI8 – Samurai Song (Samurai Uta) – release date December 2nd 2015
Limited [CD+DVD] (¥1400)


Regular [CD] (¥1143)


[CD]
1. Samurai Song (侍唄)
2. Kimi e no Carol

[DVD]
1. Samurai Song (music video)
2. making-of music video documentary

[CD]
1. Samurai Song (侍唄)
2. Kimi e no Carol
3. Heavenly Psycho (cover)
*new arrangement with members playing

4. Samurai Song (off vocal)
5. Kimi e no Carol (off vocal)

Bundled 2-edition set [CD2 + DVD] (¥2543)


KANJANI8 Official site (Johnny's net)
KANJANI8 Official site at INFINITY Records