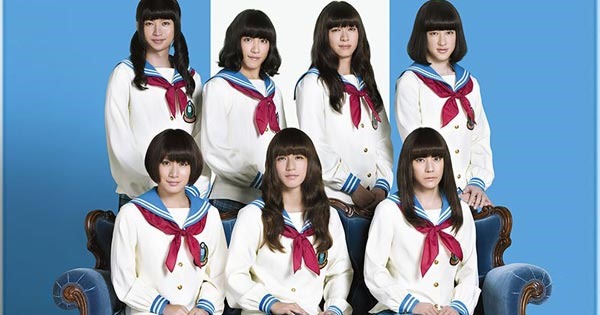 KANJANI8 (関ジャニ∞) recently revealed the jacket covers, full track list, and preview music videos for new single Maemuki Scream! (前向きスクリーム!). Their 33rd single features special unit Canjani8 (キャンジャニ∞) of all members transformed into girls and singing coupling track CANDY MY LOVE. Single Maemuki Scream! comes on three editions hitting stores August 5th 2015.
Title song Maemuki Scream! has tie-up as theme song for commercial campaign for Oronamin C (オロナミンC) Royalpolis energy drink. Coupling track CANDY MY LOVE and Canjani8 members are featured in commercial campaign for mobile game/app Candy Crush SODA.
Preview music video for Maemuki Scream! and 3 set teaser music video x Candy Crush SODA promo video after the release details.
Single Maemuki Scream! (Positive Scream!, 前向きスクリーム!) comes on three editions plus most stores offer bundled set of all three editions. Limited Pressing has Canjani8 jacket cover and available only through October 20th 2015. Regular edition includes additional Canjani8 coupling tracks.
For selected store in-store purchasers an awards lottery drawing a time of purchase (check store for availability),
– photo (1 of 8)
– clear file (Kanjani8 or Kyanjani8)
– original fan
KANJANI8 – Maemuki Scream! – release date August 5th 2105
Limited [CD+DVD] (¥1400)


Limited Pressing [CD+DVD] (¥1400)


[CD]
1. Maemuki Scream!
2. CANDY MY LOVE by Kyanjani8

[DVD]
1. Maemuki Scream! (music video)
2. making-of music video documentary
3. Zukkoke Otokodo ~8ippatsu~ recording footage

[CD]
1. Candy Afternoon (Kyanjani8 – Hajimete no Kanmuri Bangumi)
2. Maemuki Scream!
3. Candy Afternoon (Kyanjani8 – Mattari Garuzutoku)
4. CANDY MY LOVE by Kyanjani8
5. Candy Afternoon (Kyanjani8 – Sabishii Kedo Ending)

3.

[DVD]
1. CANDY MY LOVE (music video)

Regular [CD] (¥1143)


  Bundled Set of 3 (¥3943)


[CD]
1.  Maemuki Scream!
2. CANDY MY LOVE by Kyanjani8
3. Natsu no Koibito (lyrics: Maruyama Ryuhei)
4. Zukkoke Otokodo ~ 8Ippatsu ~
5. Maemuki Scream! (off vocal)
6. CANDY MY LOVE (off vocal)
Oronamin C Genki Perky! special site
Candy Crush SODA "Canjani8" special site
KANJANI8 Official site (Johnny's net)