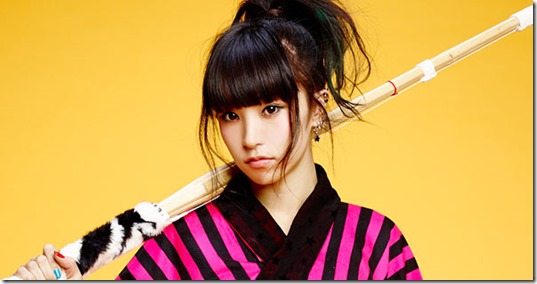 LiSA updated the release details for new album Launcher – jacket covers, full track list, and more unveiled. Her 3rd full album includes previously released songs plus 9 new for 14 total tracks. LiSA wrote or collaborated on the lyrics for 9 of the songs plus composed the music for one track. Album Launcher comes on three editions hitting stores March 4th 2015. Read on for all the details.
In conjunction she is launching the LiVE is Smile Always ~ Launcher tour covering 15 performances across Japan beginning April 29th 2015 at Namba Hatch. Full event list after the release details.
A special release event for her new album is planned for Nagoya City Auditorium on March 26th 2015 at 5:30pm. LiSA will perform live with full band, discuss the new album, and more (scheduled for 2 full hours). More details at website (link below).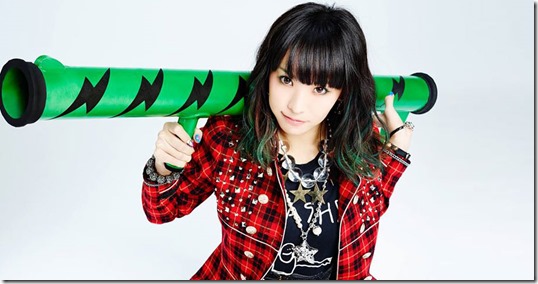 Its been about a year and a half since singer / songwriter LiSA released 2nd album LANDSPACE on October 30th 2013. Her new album Launcher includes 3 singles (5 songs) released since her 2nd album,
– Rising Hope (5th single, OP1 the Irregular at Magic High School)
– BRiGHT FLiGHT / L.Miranic (6th single) 
– Shirushi (7th single, ED3 SAO II plus coupling track No More Time Machine – ED2 SAO II)
Album Launcher comes on three editions (details subject to change). Limited with Blu-ray or DVD include same contents, 48-page booklet, deluxe sleeve packaging. Each edition includes application card.
Select stores offer purchase bonus postcard with printed comments – image, comments, and availability varies by store (animate, Gamers, Toranoana, Sofmap, Tower Records, HMV, Tsutaya)
LiSA – Launcher – release date March 4th 2015
Limited [CD+BD] (¥4500)


Limited [CD+DVD] (¥3800)


[CD]
1. Mr. Launcher
lyrics: LiSA, composer: Hideo Nekota, arrange: akkin

2. Rising Hope 
lyrics: LiSA, Tabuchi Tomoya, music: Tabuchi Tomoya, Horie Shota

3. rapid life syndrome
lyrics, music: Tabuchi Tomoya, arrange: Kurosu Katsuhiko

4. Mitsu
lyrics: LiSA, composer: Kayoko, arrange: Horie Shota

5. Akogare Bouenkyou
lyrics: Furuya Shin, composer: eba, arrange: akkin

6. BRiGHT FLiGHT
lyrics: LiSA, music: agehasprings

7. L.Miranic 
lyrics: LiSA, composer: MAH, arrange: akkin

8. FRAGILE VAMPIRE
lyrics: Furuya Shin, music: eba

9. ANTIHERO
lyrics: LiSA, music: dust

10. Bad Sweet Trap
lyrics: LiSA, Tabuchi Tomoya, music: Tabuchi Tomoya,akkin

11. Electro Lyrical
lyrics: Furuya Shin, music: Watanabe Sho, Horie Shota

12. Kun ni Piero
lyrics: LiSA, composer: LiSA, arrange: akkin

13. No More Time Machine
lyrics: Furuya Shin, composer: agehasprings, arrange: Yashikin

14. Shirushi (ED3 SAO II)
lyrics: LiSA, composer: Kayoko, arrange: akkin

[BD]
1. LiVE is Smile Always ~ LiSAMMERLAND 
– OP video
– 18 live songs
2. No More Time Machine (music video)

[CD]
1. Mr. Launcher
2. Rising Hope 
3. rapid life syndrome
4. Mitsu
5. Akogare Bouenkyou
6. BRiGHT FLiGHT
7. L.Miranic 
8. FRAGILE VAMPIRE
9. ANTIHERO
10. Bad Sweet Trap
11. Electro Lyrical
12. Kun ni Piero
13. No More Time Machine
14. Shirushi
[BD]
1. LiVE is Smile Always ~ LiSAMMERLAND 
– OP video
– 18 live songs
2. No More Time Machine (music video)
Regular [CD] (¥3000)


[CD]
[CD]
1. Mr. Launcher
2. Rising Hope 
3. rapid life syndrome
4. Mitsu
5. Akogare Bouenkyou
6. BRiGHT FLiGHT
7. L.Miranic 
8. FRAGILE VAMPIRE
9. ANTIHERO
10. Bad Sweet Trap
11. Electro Lyrical
12. Kun ni Piero
13. No More Time Machine
14. Shirushi
■ LiVE is Smile Always ~ Launcher ~ ■
4/29  Namba Hatch (17: 00/18: 00)
4/30  Namba Hatch (18: 00/19: 00)
5/02  Takamatsu DIME (17: 30/18 : 00)
5/03  Hiroshima CLUB QUATTRO (17: 30/18: 00)
5/05  Fukuoka DRUM LOGOS (17: 15/18: 00)
5/06  Kumamoto B.9 V1 (17: 15/18: 00)
5/09  Niigata LOTS (17: 30/18: 00)
5/10  Kanazawa Eight Hall (17: 30/18: 00)
5/15  Zepp Nagoya (18: 00/19: 00)
5/16  Zepp Nagoya (17: 00/18: 00)
5/22  Sendai Rensa (18: 00/19: 00 )
5/23  Sendai Rensa (17: 00/18: 00)
5/30  Sapporo PENNY LANE 24 (17: 30/18: 00)
6/06  Zepp Tokyo (17: 00 / 18:00)
6/07 Zepp Tokyo (16: 00/17: 00)