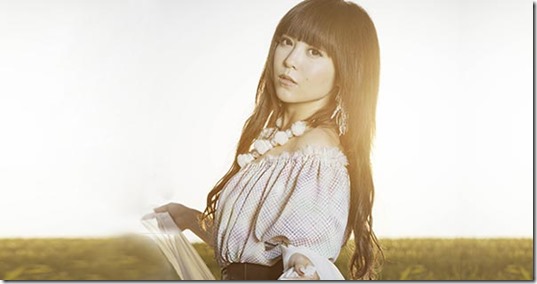 Maon Kurosaki (黒崎真音) announced new single Setsuna no Kajitsu* (刹那の果実) with tie-up as the opening theme for upcoming anime Eden of Grisaia (Grisaia no Rakuen) the sequel to anime The Fruit of Grisaia. Her 8th single Setsuna no Kajitsu is produced by Elements Garden and comes on three editions scheduled to hit stores May 13th 2015. Read on for more early release details.
~ updated details and PVs revealed ~
Most recently Maon Kurosaki released 7th single Rakuen no Tsubasa (楽園の翼) on October 15th 2015. The single has tie-up as opening theme for the first season of anime The Fruit of Grisaia.
Anime The Fruit of Grisaia (Grisaia no Kajitsu, Le Fruit de la Grisaia, グリザイアの果実) is adapted from adult game from Front Wing. The story takes place at private Mihama Academy and follows Kazami Yuji, a foreign exchange student with a dark past. He meets five classmates as they uncover the past and open their hearts.
The anime's first season aired October-December 2014 and the second season Eden of Grisaia begins April 2015. Outside of Japan provider Crunchyroll has season one available on-demand and is likely to simulcast season 2. Hit the link for The Fruit of Grisaia for episodes and related stories for both seasons.
The anime's ending theme is again provided by voice actor and singer Nanjo Yoshino (南條愛乃)(fripSide) with her 3rd solo single Tasogare no Starlight.
Single Setsuna no Kajitsu comes on three editions (details subject to change). Limited includes DVD with bonus content from TOUR 2014-2015 Wings of EDEN -GARNET!!- plus a ChaosTCG PR card. Limited Pressing includes anime themed illustrated jacket cover and ChaosTCG PR card.
Most stores offer purchase bonus on either edition while supplies last – b3-size double sided poster (Maon Kurosaki x The Eden of Grisaia).
Jacket covers, full track list, and more details coming!
*note: her 8th single was initially announced as titled "blow up the world" but was quickly announced as changed to Setsuna no Kajitsu (Fruit of the Moment).
Maon Kurosaki – Setsuna no Kajitsu – release date May 13th 2015
Limited [CD+DVD] (¥2200)


Limited Pressing [CD+DVD] (¥1700)


[CD]
1. Setsuna no Kajitsu
2. undecided
3. undecided
4. undecided
[DVD]
1. Setsuna no Kajitsu (music video)
2. making-of music video documentary
3. TVCM spot(s)
4. M-ON! LIVE Maon Kurosaki LIVE TOUR 2014-2015 Wings of EDEN -GARNET!!- digest footage
[CD]
1. Setsuna no Kajitsu
2. undecided
3. undecided
4. undecided
[DVD]
1. The Fruit of Grisaia opening animation (textless)
2. The Eden of Grisaia opening animation (textless)
3. Setsuna no Kajitsu (short ver. music video)
Regular [CD] (¥1200)


 
[CD]
1. Setsuna no Kajitsu
2. undecided
3. undecided
4. undecided
 
Maon Kurosaki official website
Grisaia no Kajutsu official site