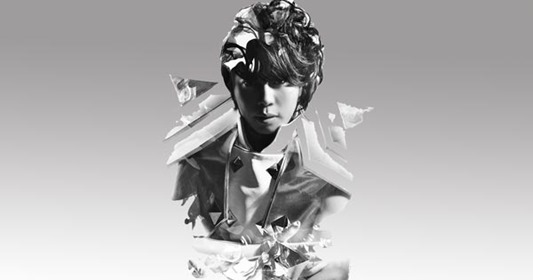 T.M.Revolution (T.M.R.) unveiled more details and live song digest video for album Ten (天) (Heaven). The album includes 15 songs including singles, coupling tracks, and new songs. His 10th album Ten (天) comes on three editions hitting stores on his debut anniversary May 13th 2015. Updated details and 13+ minute digest video follow.
Talented singer / producer T.M.Revolution, the alter-ego of Nishikawa Takanori, released three singles in 2014,
– Phantom Pain (2014.09.03)
– Tsuki Yabureru – Time to Smash! (突キ破レル-Time to SMASH!) (2014.08.06) with tie-up as OP for anime Disk Wars: The Avengers. Coupling track Thread of fate is the anime's ending theme.
– Count ZERO / Runners high (2014.02.12) a split single with band SCANDAL.
Both songs are featured in game for the Sengoku BASARA4. T.M.Revolution has provided the majority of theme songs for the long running franchise's games and anime.
The album also includes single FLAGS (2011.06.22)  plus coupling track The party must go on both also featured as theme songs for game and movie respectively in Sengoku BASARA franchise.
Album Ten (天) (Heaven) comes on three editions. Limited editions include live digest footage from different concert events. Regular edition adds two bonus tracks. First Press versions of each edition include a participation ticket for GIVE ME TENN release events. The "high-touch" events are planned for Tokyo, Nagoya, and Osaka.
Digest video for album songs after the release details.
T.M.Revolution – Ten (天) – release date May 13th 2015
Limited A [CD+DVD] (¥3704)


Limited B [CD+DVD] (¥3704)


[CD]
1. The ether
2. DOUBLE-DEAL
3. AMAKAZE – 天風
4. Tsuki Yabureru – Time to SMASH!
5. Thread of fate
6. HEAVEN ONLY KNOWS ~Get the Power
7. Summer Blizzard
8. Salvage
9. Dream Crusader
10. Phantom Pain
11. CRIMSON AIR
12. Count ZERO
13. FLAGS
14. The party must go on
15. The edge of Heaven & Revolution
[DVD]
1. TMR Live Inazuma Rock Res 2014
[CD]
1. The ether
2. DOUBLE-DEAL
3. AMAKAZE – 天風
4. Tsuki Yabureru – Time to SMASH!
5. Thread of fate
6. HEAVEN ONLY KNOWS ~Get the Power
7. Summer Blizzard
8. Salvage
9. Dream Crusader
10. Phantom Pain
11. CRIMSON AIR
12. Count ZERO
13. FLAGS
14. The party must go on
15. The edge of Heaven & Revolution
[DVD]
1. TMR Live Taiwan (digest footage)
Regular [CD] (¥2963)


[CD]
1. The ether
2. DOUBLE-DEAL
3. AMAKAZE – 天風
4. Tsuki Yabureru – Time to SMASH!
5. Thread of fate
6. HEAVEN ONLY KNOWS ~Get the Power
7. Summer Blizzard
8. Salvage
9. Dream Crusader
10. Phantom Pain
11. CRIMSON AIR
12. Count ZERO
13. FLAGS
14. The party must go on
15. The edge of Heaven & Revolution
16. Tsuki Yabureru – Time to SMASH! (Re:boot)
17. Thread of fate (Re:boot)
T.M.Revolution Official website