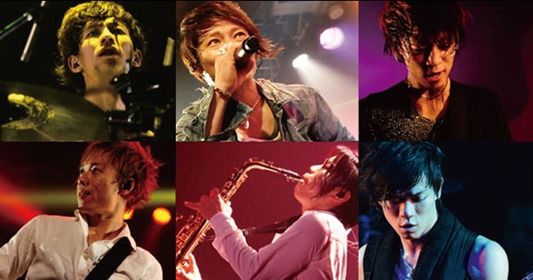 UVERworld revealed new single with opening theme Boku no Kotoba de wa nai Kore wa Bokutachi no Kotoba  for upcoming anime The Heroic Legend of Arslan (Arslan Senki, アルスラーン戦記). Their 27th single includes three new songs and comes on three editions scheduled for release on May 13th 2015. Read on for more details.
Most recently rock band UVERworld released 8th album Ø CHOIR on July 2nd 2014. Previously they released 26th single 7-Kame no Ketsui (7日目の決意, Nanokame no Ketsui)(2014.06.18) that was featured during their UVERworld ARENA LIVE 2013 winter.
They announced tour dates for the UVERworld LIVE 2015 during September at Yoyogi National Stadium and Kobe World Memorial Hall,
– Yoyogi National Stadium: September 2nd, 3rd, 5th, 6th 2015
– Kobe World Memorial Hall: September 12th & 13th
Anime The Heroic Legend of Arslan (Arslan Senki, アルスラーン戦記) adapted from manga by Arakawa Hiromu (orig. novels by Tanaka Yoshiki), follows Arslan a young and curious prince of Pars who, despite his best efforts, doesn't seem to have what it takes to be a proper king like his father. The prosperous kingdom of Pars currently ruled by the undefeated and fearsome King Andragoras. But everything changes at the age of 14, Arslan thrust into his first battle sees his father defeated and loses everything as war brings the demise of the once glorious kingdom. Arslan must now embark on a journey to reclaim his fallen kingdom.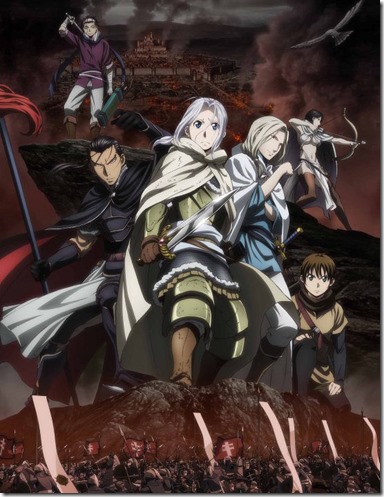 The anime features Kobayashi Yuuske (Takamiya Witch Craft Works) as Arslan and Maaya Sakamoto in supporting role of Falangies. It airs starting April 5th 2015 Sundays 5:00pm (JST) on MBS TV and TBS TV in Japan.
Aoi Eir provides the anime's ending theme with her 10th single Lapis Lazuli (more details).
The new single with Boku no Kotoba de wa nai Kore wa Bokutachi no Kotoba (Not My Words, This is Our Word, 僕の言葉ではない これは僕達の言葉) comes on three editions (details subject to change). Limited Pressing anime themed includes illustrated jacket cover and available through July 2015. Jacket covers, full track list, and more details coming.
New long trailer for The Heroic Legend of Arslan featuring opening theme by UVERworld after the release details.
UVERworld – 27th single – release date May 13th 2015
Limited [CD+DVD] (¥1574)


Limited Pressing [CD] (¥1400)


[CD]
1. Boku no Kotoba de wa nai Kore wa Bokutachi no Kotoba
lyrics, composer: TAKUYA∞, arrangement: UVERworld

2. undecided
3. undecided
[DVD]
1. music video

[CD]
1. Boku no Kotoba de wa nai Kore wa Bokutachi no Kotoba
2. undecided
3. undecided
Regular [CD] (¥1204)


 
[CD]
1. Boku no Kotoba de wa nai Kore wa Bokutachi no Kotoba
2. undecided
3. undecided