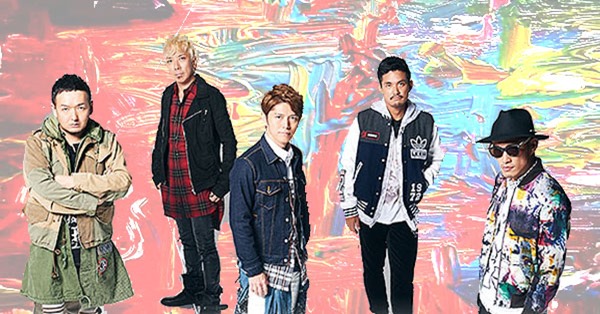 FLOW revealed more details plus a new preview video for album #10. Their 10th original album features two singles with 10 total tracks each featuring a guest collaborator. Album #10 comes on two editions hitting stores February 3rd 2016. Release details and all track preview video follow.
The band which is in their 18th year just released single Steppin' out on January 20th 2016. Their 30th single has tie-up as opening theme for anime Durarara!! X2 Ketsu (結)  or Durarara!! X2 Third Arc.
The album also includes their 29th single Niji no Sora (虹の空) (2015.08.12) with tie-up as 34th ending theme for long-running anime NARUTO Shippūden.
For their 10th album FLOW collaborates on each song with a guest artist – notable collaborations,
– Steppin' out : Toku (GARNiDELiA) (arrange & produce)
– DARK SHADOW : TeddyLoid (arrange & produce)
– Good Days ~ Kimi wo Wasurenai ~ : NAOTO (ORANGE RANGE) (arrange & produce)
Album #10 comes on two editions. First Press all both editions include awards application postcard connected application included with their 30th single Steppin' out. Benefits image not yet announced.
Album preview #2 video after the release details.
FLOW – #10 – release date February 3rd 2016
Limited [CD+DVD] (¥3241)


Limited Pressing "Anime" [CD] (¥2778)


[CD]
1. Niji no Sora (album ver.)
2. Oblivion feat. HISAHI (GLAY)
3. DARK SHADOW feat TeddyLoid
4. Steppin' out
5. Hikari Oikakete (Crystal Lake mix)
6. Chimimoryo feat. Hayate
7. DECATHLON feat. ARFA
8. JOY TO THE WORLD feat. Kiba Obu Akiba
9. World Symphony
10. Good Days ~ Kimi wo Wasurenai ~

[DVD]
1. Niji no Sora (music video)
2. Steppin' out (music video
3. FLOW WORLD TOUR 2015 Kiwami documentary

[CD]
1. Niji no Sora (album ver.)
2. Oblivion feat. HISAHI (GLAY)
3. DARK SHADOW feat TeddyLoid
4. Steppin' out
5. Hikari Oikakete (Crystal Lake mix)
6. Chimimoryo feat. Hayate
7. DECATHLON feat. ARFA
8. JOY TO THE WORLD feat. Kiba Obu Akiba
9. World Symphony
10. Good Days ~ Kimi wo Wasurenai ~