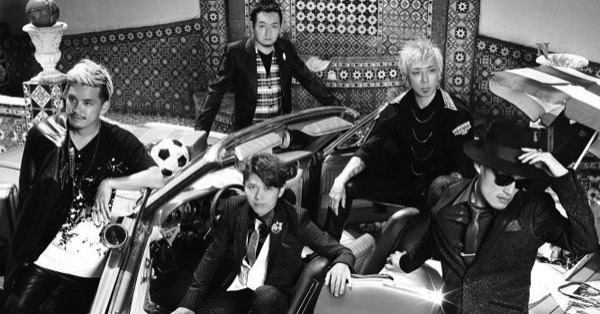 FLOW recently announced new single Steppin' out with tie-up as opening theme for upcoming anime Durarara!! X2 Ketsu (結) – the 3rd arc of anime Durarara!! season two. Their 30th single Steppin' out comes on three editions scheduled for release on January 20th 2016.
~ preview music video revealed ~
Rock band FLOW also announced 10th original album #10 set for release on February 3rd 2016. The album will include new single Steppin' out and 9 other hit songs.
Most recently FLOW released single Niji no Sora (虹の空) on August 12th 2015. Their 29th single has tie-up as 34th ending theme for anime NARUTO Shippūden.
Anime Durarara!! is adapted from light novel series by Narita Ryohgo (illustrated by Yasuda Suzuhito). The story follows underworld and gang activities around Ikebukuro. Supernatural happenings, headless rider Celty, and more chaos continues in the 3rd part of the TV series second season Durarara!! X2 Ketsu (結, conclusion).
The anime airs starting January 9th 2016 on Tokyo MX in Japan. Provider Crunchyroll has the previous season available on demand and will likely simulcast the new season.
Unit PENGUIN RESEARCH provides the ending theme with debut single Joker ni Yoroshiku (ジョーカーに宜しく).
Single Steppin' out comes on three editions (details subject to change). Limited Pressing anime themed is available through March 2016 with illustrated jacket cover and includes sticker. First Press all editions include lottery application connected with their new album #10.
Anime trailer after the release details.
FLOW – Steppin' out – release date January 20th 2016
Limited [CD+DVD] (¥1500)


Limited Pressing "Anime" [CD] (¥1500)


[CD]
1. Steppin' out
2. undecided
3. undecided
4. undecided

[DVD]
1. Steppin' out (music video)
2. making-of music video documentary

[CD]
1. Steppin' out
2. undecided
3. undecided
4. undecided
5. Steppin' out (TV-size)

[DVD]
1. opening animation (textless)

Regular [CD] (¥1200)


 
[CD]
1. Steppin' out
2. undecided
3. undecided
4. undecided
 
Durarara!! official site (Japan)
Durarara!! X2 official site (USA)