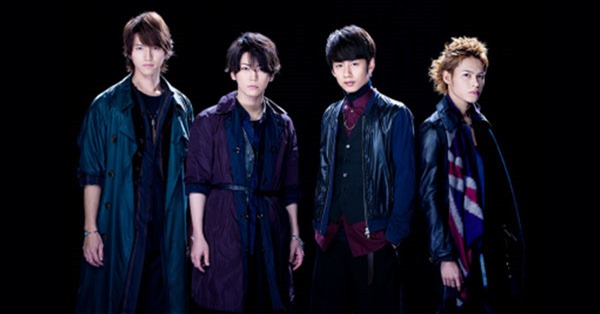 KAT-TUN just released their first greatest hits album – 10th ANNIVERSARY BEST "10Ks!". The album comes on 2CDs that include their 26 singles plus new song Kimi no Yume Boku no Yume (君のユメ ぼくのユメ). The Limited A adds 3rd CD with 15 tracks selected by fan voting. Album 10th ANNIVERSARY BEST "10Ks!" comes on three editions releasing on March 22nd 2016.
The album most likely marks the last release with member Taguchi Junnosuke (30, left) who previously announced he would leave KAT-TUN and the entertainment industry spring 2016. Over their 10 years other members have left – Jin Akanishi (2010) to focus on a solo career and Tanaka Koki (2013) was removed from group for contract violation.
Their greatest hits album incudes recently released singles TRAGEDY (2016.02.10) with tie-up as opening theme for season two of anime The File of Young Kindaichi Returns (Kindaichi Shounen no Jikenbo R). Plus 26th single UNLOCK (March 2nd 2016) with tie-up as theme song for TV drama series Kaito Yamaneko staring member Kamenashi Kazuya.
Greatest hits album 10th ANNIVERSARY BEST "10Ks!" comes on three editions:
Limited A includes special packaging, 36-page lyrics booklet, and 20-page Hyphen Selection lyrics booklet. The CD3 features the "Hyphen (KAT-TUN fan) Selection" of 15 tracks selected from 134 b-side and album songs by fan voting. All tracks remastered from original sound source.
Limited B includes special packaging and 36-page lyrics booklet. The DVD includes all 26 singles music videos.
Regular includes 30 lyrics leaflets plus First Press version adds KAT-TUN mini-poster.
KAT-TUN – 10th ANNIVERSARY BEST "10Ks!" – release date March 22nd 2016
Limited A [CD3] (¥3500)


Limited B [CD2+DVD] (¥3500)


[CD1] 2006 – 2010
01. Real Face
02. SIGNAL
03. Bokura no Machi de
04. Yoro Kobi ni Uta
05. Keep the faith
06. LIPS
07. DON'T U EVER STOP
08. White X'mas
09. ONE DROP
10. RESCUE
11. Love yourself ~Kimi ga Kirai na Kimi ga Suki~
12. Going!
13. CHANGE UR WORLD

[CD2] 2011 – 2016
01. ULTIMATE WHEELS
02. WHITE
03. RUN FOR YOU
04. WHITE
05. TO THE LIMIT
06. Funetsu no Scrum
07. EXPOSE
08. FACE to Face
09. In Fact
10. Dead or Alive
11. KISS KISS KISS
12. TRAGEDY
13. UNLOCK
14. Kimi no Yume Boku no Yume

[CD3] Hyphen Selection
01. Haruka na Yakusoku
02. Will Be All Right
03. PERFECT
04. MOON
05. NEVER AGAIN
06. BOUNCE GIRL
07. 4U
08. GOLD
09. YOU
10. RAY
11. THE D-MOTION
12. PRECIOUS ONE
13. STAR RIDER
14. Shunka Shuto
15. Peacefuldays

[CD1] 2006 – 2010

[CD2] 2011 – 2016

[DVD] Music Video Collection
01. Real Face
02. SIGNAL
03. Bokura no Machi de
04. Yoro Kobi no Uta
05. Keep the faith
06. LIPS
07. DON'T U EVER STOP
08. White X'mas
09. ONE DROP
10. RESCUE
11. Love yourself ~Kimi ga Kirai na Kimi ga Suki~
12. Going!
13. CHANGE UR WORLD
14. ULTIMATE WHEELS
15. WHITE
16. RUN FOR YOU
17. BIRTH
18. TO THE LIMIT
19. Fumetsu no Scrum
20. EXPOSE
21  FACE to Face
22. In Fact
23. Dead or Alive
24. KISS KISS KISS
25. TRAGEDY
26. UNLOCK

Regular [CD2] (¥2800)


Bundled 3-set (¥9800)


[CD1] 2006 – 2010

[CD2] 2011 – 2016
KAT-TUN official site (Johnny's net)