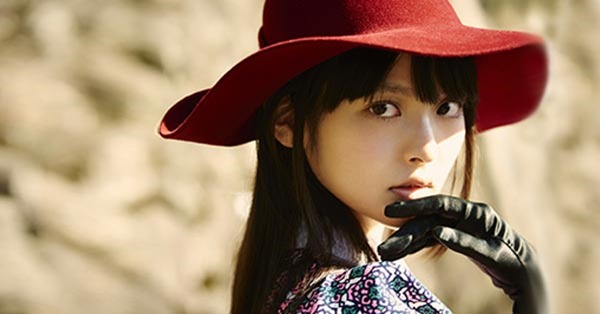 Uesaka Sumire (上坂すみれ) revealed details for new album 20 Seiki no Gyakushu (20世紀の逆襲) – jacket covers, full track list, and preview music video unveiled. Her 2nd original album includes four singles, five new songs, and more for 18 total tracks. Album 20 Seiki no Gyakushu comes on four editions hitting stores January 6th 2016.
*preview music video updated
Voice actor Uesaka Sumire (23) most recently released single Inner Urge on July 22nd 2015. Her 6th single has tie-up as ending theme for new anime SHIMONETA (A Boring World Where the Concept of Dirty Jokes Doesn't Exist, 下ネタという概念が存在しない退屈な世界).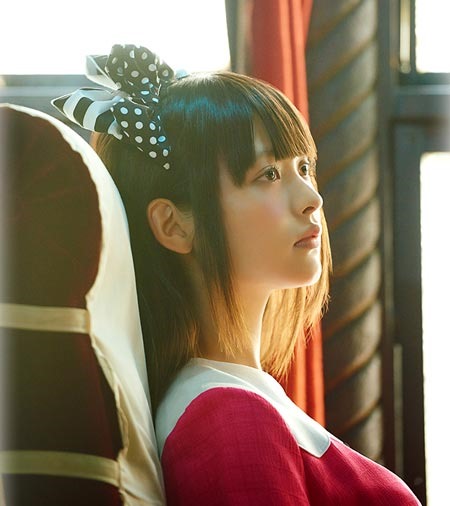 Her new album Limited A & B editions include music video collection on Blu-ray or DVD. The collection includes all her singles from debut Nanatsu no Umi Yori Kimi no Umi (七つの海よりキミの海) and 1st album Kakumei Teki Broadway Shugisha Doumei (革命的ブロードウェイ主義者同盟) plus music video for re-arranged version of 2nd single coupling track Tetori Ashitori (テトリアシトリ).
Album 20 Seiki no Gyakushu comes on four editions. Limited A & B features jacket cover in collaboration with illustrator Mikimoto Haruhiko. Limited C includes 28-page deluxe photo book and jacket cover by Maruo Suehiro. Regular edition's jacket cover by BAHI JD.
Preview music video for Tetori Ashitori (PARKGOLF remix) after the release details.
Uesaka Sumire – 20 Seiki no Gyakushu – release date January 6th 2016
Limited A [CD+BD] (¥3600)


Limited B [CD+DVD] (¥3600)


[CD]
1. Yokan 02 (inst.)
2. 20 Seiki no Gyakushu Daiissho ~ Guren no Michi ~ (new)
3. Parallax View (3rd sgl)
4. Meikai Tsushin ~ Bojo-hen ~
5. Tsunaga re Hito, Yoi Shire Hito (new)
6. Sumire Code
7. TRAUMA yo Mirai wo Ake!!
8. Inner Urge (6th sgl)
9. Mugen Matryoshka
10. Mukyu Nari Shumisha Shudan
lyrics: Uesaka Sumire

11. Kitare! Akatsuki no Doushi (4th sgl)
12. 20 Seiki no Gyakushu Daiissho ~ Kowaku no Kiba ~ (new)
13. Enma Daio ni Kiite Goran (5th sgl)
14. Tsumitobachi -Sweet Inferno-
15. Zenen Spectrum (new)
16. Kakumei Teki Broadway Shugisha Doumei (piano ver.)
17. Tsuwamonodomoga Yumenoato
18, 20 Seiki no Gyakushu Daiissho ~ Zekkyo no Cho ~ (new)

[BD]
1. Nanatsu no Umi Yori Kimi no Umi (music video)
2. Genshi, Joshi wa Taiyodatta. (music video)
3. Kakumei Teki Broadway Shugisha Doumei (music video)
4. Parallax View (music video)
5. Kitare! Akatsuki no Doushi (music video)
6. Enma Daio ni Kiite Goran (music video)
7. Inner Urge (music video)
8. Tetori Ashitori (PARKGOLF remix) (music video)

[CD]
1. Yokan 02
2. 20 Seiki no Gyakushu Daiissho ~ Guren no Michi ~
3. Parallax View
4. Meikai Tsushin ~ Bojo-hen ~
5. Tsunaga re Hito, Yoi Shire Hito
6. Sumire Code
7. TRAUMA yo Mirai wo Ake!!
8. Inner Urge
9. Mugen Matryoshka
10. Mukyu Nari Shumisha Shudan
11. Kitare! Akatsuki no Doushi 
12. 20 Seiki no Gyakushu Daiissho ~ Kowaku no Kiba ~
13. Enma Daio ni Kiite Goran 
14. Tsumitobachi -Sweet Inferno-
15. Zenen Spectrum
16. Kakumei Teki Broadway Shugisha Doumei (piano ver.)
17. Tsuwamonodomoga Yumenoato
18, 20 Seiki no Gyakushu Daiissho ~ Zekkyo no Cho

[DVD]
1. Nanatsu no Umi Yori Kimi no Umi (music video)
2. Genshi, Joshi wa Taiyodatta. (music video)
3. Kakumei Teki Broadway Shugisha Doumei (music video)
4. Parallax View (music video)
5. Kitare! Akatsuki no Doushi (music video)
6. Enma Daio ni Kiite Goran (music video)
7. Inner Urge (music video)
8. Tetori Ashitori (PARKGOLF remix) (music video)

Limited [CD+Photobook] (¥3600)


Regular [CD] (¥3000)


[CD]
1. Yokan 02
2. 20 Seiki no Gyakushu Daiissho ~ Guren no Michi ~
3. Parallax View
4. Meikai Tsushin ~ Bojo-hen ~
5. Tsunaga re Hito, Yoi Shire Hito
6. Sumire Code
7. TRAUMA yo Mirai wo Ake!!
8. Inner Urge
9. Mugen Matryoshka
10. Mukyu Nari Shumisha Shudan
11. Kitare! Akatsuki no Doushi 
12. 20 Seiki no Gyakushu Daiissho ~ Kowaku no Kiba ~
13. Enma Daio ni Kiite Goran 
14. Tsumitobachi -Sweet Inferno-
15. Zenen Spectrum
16. Kakumei Teki Broadway Shugisha Doumei (piano ver.)
17. Tsuwamonodomoga Yumenoato
18, 20 Seiki no Gyakushu Daiissho ~ Zekkyo no Cho
[CD]
1. Yokan 02
2. 20 Seiki no Gyakushu Daiissho ~ Guren no Michi ~
3. Parallax View
4. Meikai Tsushin ~ Bojo-hen ~
5. Tsunaga re Hito, Yoi Shire Hito
6. Sumire Code
7. TRAUMA yo Mirai wo Ake!!
8. Inner Urge
9. Mugen Matryoshka
10. Mukyu Nari Shumisha Shudan
11. Kitare! Akatsuki no Doushi 
12. 20 Seiki no Gyakushu Daiissho ~ Kowaku no Kiba ~
13. Enma Daio ni Kiite Goran 
14. Tsumitobachi -Sweet Inferno-
15. Zenen Spectrum
16. Kakumei Teki Broadway Shugisha Doumei (piano ver.)
17. Tsuwamonodomoga Yumenoato
18, 20 Seiki no Gyakushu Daiissho ~ Zekkyo no Cho ~
Uesaka Sumire official website (StarChild)