December 17, 2011
-
toyNN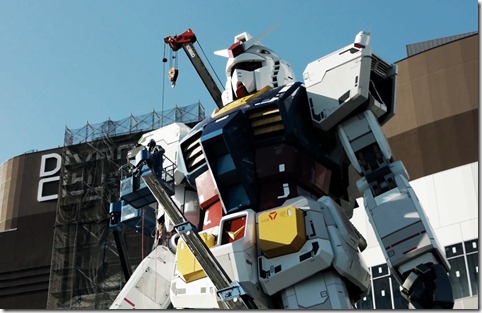 The 1:1 scale Gundam that has been featured at a few locations in Japan has returned to Odaiba (Tokyo) where it first made its appearance 2 1/2 years ago. Previously the Gundam RX-78-2 had been at Shizuoka outside the JR Higashi-Shizuoka station (until 3/2011). This time the animatronic Gundam is outside of Diver City shopping center which is still undergoing construction with an expected completion date of Spring 2012. Photos and videos of erecting the full-size Gundam follow,
Thanks to these folks who took the images and video,
Darwinfish105 at High-Def blogspot (images and video)
Buloblog at  webry.info (images)
Danny Choo at Culture Japan (source)
Gundam construction mid-completion
Gundam construction near full-completion
Click on any images below to enlarge – amazing detail and number of parts that have gone into making this life-size Gundam RX-78-2.
Images of the Gundam in its final state at Shizuoka are in a previous post.