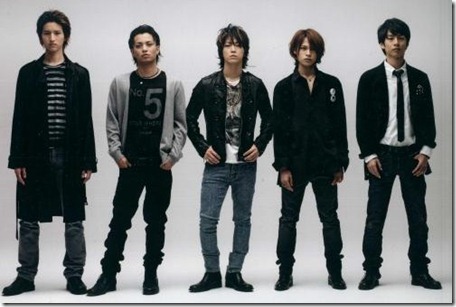 "BIRTH" is KAT-TUN's newest single and was chosen as the theme song for member Kamenashi Kazuya's upcoming drama "Yokai Ningen Bem" (will start on October 22nd 9PM). The single is now set to drop November 30th.
"Yokai Ningen Bem", is a live-action drama adapted from twice produced anime of the same name (1968, 2006) and centers on the lives of Bem, Bera and Berro, three yokai (spirits) who fight against other yokai and monsters that attack humans. Kame will be starring as Bem, alongside actress Anne and child actor Suzuki Fuku who will play Bera and Berro, respectively.
Tower Records released a bit of news on the single "BIRTH"  – it will be released in three editions though the full track lists aren't yet known nor have the CD covers been released.
Limited Edition A

CD
1. BIRTH
DVD
1. BIRTH (Video clip + making)

Limited Edition B

CD
1. BIRTH
2. song A
DVD
1. song A (Video clip + making)

Regular Edition

CD
1. BIRTH
2. song A
3. song B
4. song C
5. BIRTH (Karaoke)
6. song A (Karaoke)
7. song B (Karaoke)
8. song C (Karaoke)