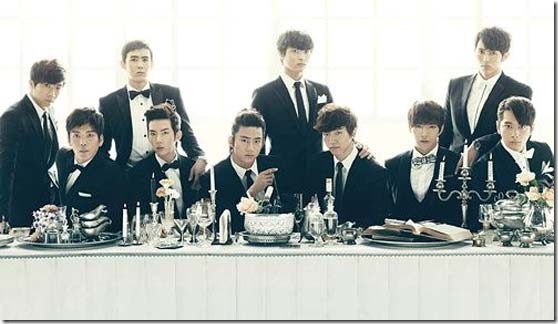 The 2PM+2AM combined group has updated the release details for their new Japanese single "Oneday" with all 12 jacket covers. Early release details and preview videos for the tie-in with the group's new documentary movie "Beyond the ONEDAY ~Story of 2PM&2AM~" were previously posted here. Updated release details for the single which is set for release on July 4th follows.
The single includes two new songs – both are featured in the documentary film that features footage from their JYP NATION 2011 tour as well as other behind the scenes footage. The 2PM+2AM documentary film premiers on June 30th at TOHO Cinemas in Roppongi and other theaters across Japan. More information is available at a special website for the documentary movie – link at end of article.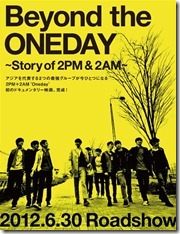 The single comes in 12 editions:
– Limited A with bonus DVD with 2 versions of music video for "Oneday".
– Solo Jacket cover editions 10 different, CD-only editions with track list same as Limited and otherwise similar.
– Regular CD-only with bonus track live recording of song "Angel".
2PM+2AM – "Oneday" – release date July 4th 2012
Limited A [CD+DVD] (¥1800)


JunSu jacket [CD] (¥1020)


[CD]
1. Oneday
2. No Goodbyes
3. Oneday (off vocal)
4. No Goodbyes (off vocal)
[DVD]
1. Oneday (music video)
2. Oneday (movie ver.)
[CD]
1. Oneday
2. No Goodbyes
3. Oneday (off vocal)
4. No Goodbyes (off vocal)
(track list similar for all solo jacket covers)
Nichkhun jacket [CD] (¥1020)


TaecYeon jacket [CD] (¥1020)


WooYoung jacket [CD] (¥1020)


JunHo jacket [CD] (¥1020)


ChanSung jacket [CD] (¥1020)


ChangMin jacket [CD] (¥1020)


SeulOng jacket [CD] (¥1020)


Jo Kwon jacket [CD] (¥1020)


JinWoon jacket [CD] (¥1020)


Regular [CD] (¥1200)


[CD]
1. Oneday
2. No Goodbyes
3. Oneday (off vocal)
4. No Goodbyes (off vocal)
5. Angel (live recording) [bonus track]
2AM Official website (Japanese)
2PM Official website (Japanese)