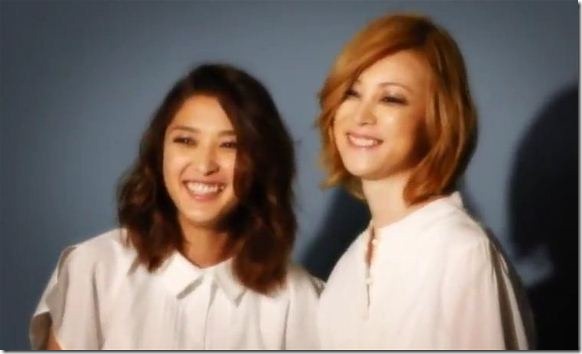 New unit ABCHO consists of former Morning Musume and Dream Morning Musume members Rika Ishikawa and Hitomi Yoshizawa and has their debut single "Me o Tojite Gyusshiyo". The song, written by loco2kit, is featured as the opening theme song for Spring anime Sengoku Collection. The single is offered in two editions and is due out May 23rd. The pair also just revealed a short video of photo shoot and song preview. Video and more details follow,
Rika Ishikawa and Hitomi Yoshizawa also form the edgy unit Hangry & Angry-f that has put out three singles and two albums between 2008-2011. The new unit ABCHO is a sound, theme, and fashion change for the duo.
The single comes in a Limited edition with bonus DVD (contents not yet announced) and a Regular CD-only edition with anime theme jacket cover.
Anime Sengoku Collection is another spin on the Warring States period of the three Kingdoms – Ieyasu, Nobunaga Oda, Masamune Date, and others (all as cute girls) are transported to our modern day world. So far each episode has focused on a different general, how they adapt, and one who is trying to return home.
The anime started airing on April 5th on TV Tokyo and is streamed outside of Japan on Crunchyroll. Check out our Crunchyroll Updates page for all the latest episodes or hit the link for Sengoku Collection tagged posts and anime episodes (linked to Crunchyroll).
Video of ABCHO at photo shoot follows after the release details.
Some details on the single aren't official yet so check back to Comtrya Sugoi for updates.
ABCHO – "Me o Tojite Gyusshiyo" – release date May 23rd 2012
Limited [CD+DVD] (¥1500)


Regular [CD] (¥1000)


[CD]
1. Me o Tojite Gyusshiyo
2. Kuusou- Discotheque
3. Me o Tojite Gyusshiyo (off vocal)
4. Me o Tojite Gyusshiyo (nonSectRadicals extended Chop version)
[DVD]
1. tba
[CD]
1. Me o Tojite Gyusshiyo
2. Kuusou- Discotheque
3. Me o Tojite Gyusshiyo (off vocal)
4. Me o Tojite Gyusshiyo (nonSectRadicals extended Chop version)
ABCHO – "Me o tojite Gyusshiyo" – release date May 23rd 2012
Sengoku Collection Official website (TV Tokyo)