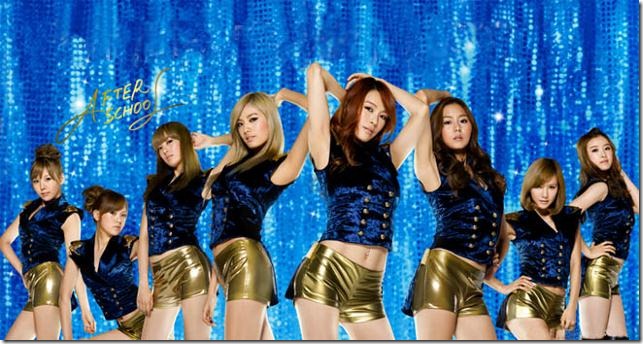 Korean idol group AFTERSCHOOL has just announced their 4th Japanese single, a double-A side release, "Lady Luck / Dilly Dally". Both of the tracks are features a CM (Commercial Message) songs – "Lady Luck" for Samantha Thavasa products and "Dilly Dally" for Rexena products. The single is set for release on June 13th and is offered in three editions. More early release details follow,
The single comes in three editions: a Limited A with bonus DVD that includes music video and off-shoot footage for "Lady Luck"; a Limited B with bonus DVD of "FIRST JAPAN TOUR 2012 PLAYGIRLZ DOCUMENTARY MOVIE"; and Regular CD-only edition that adds bonus track "SLOW LOVE".
First Press is offered on all three editions and adds a trading card and special event ticket.
Track list is tentative and subject to change plus cover jackets are still in production so check back to Comtrya Sugoi for updates on AFTERSCHOOL's new single.
AFTERSCHOOL – "Lady Luck / Dilly Dally" – release date June 13th 2012
Limited A [CD+DVD] (¥1890)


Limited B [CD+DVD] (¥1890)


[CD]
1. Lady Luck
2. Dilly Dally
3. Lady Luck (off vocal)
2. Dilly Dally (off vocal)
[DVD]
1. Lady Luck (music video)
2. Lady Lucky (off shoot)
[CD]
1. Lady Luck
2. Dilly Dally
3. Lady Luck (off vocal)
2. Dilly Dally (off vocal)
[DVD]
1. FIRST JAPAN TOUR 2012 PLAYGIRLZ DOCUMENTARY MOVIE
Regular [CD] (¥1000)


 
[CD]
1. Lady Luck
2. Dilly Dally
3. SLOW LOVE
3. Lady Luck (off vocal)
2. Dilly Dally (off vocal)
 
Rexena Products AFTERSCHOOL off-shoot video