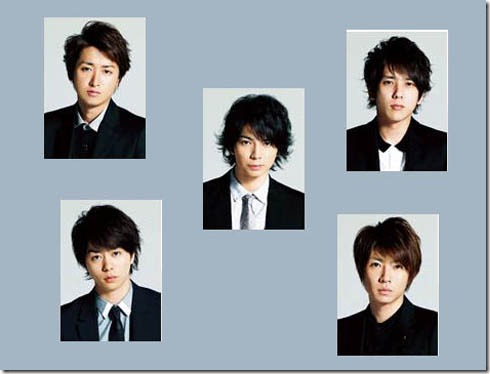 Arashi's new single – "Face Down" – has just updated track list with two coupling tracks that will come separately on each of the two available editions of the single. The single was previously announce here and is set for release on May 9th. The updated details follow,
"Face Down" is also just announced that its going to be featured as theme song for Fuji TV drama "Kagi no Kakatta Heya" (Locked Room). The show airs Monday's at 9pm.
Cover jackets and any bonus details have yet to be announced so please check back to Comtrya Sugoi for updates when announced.
Arashi – "Face Down" – release date May 9th 2012
Limited [CD+DVD] (¥1470)


Regular [CD] (¥1000)


[CD]
1. Face Down
2. Hitori Ja Naisa
3. Hitori Ja Naisa (off vocal)
[DVD]
1. Face Down (music video)
[CD]
1. Face Down
2. Mezashita Mirai e
3. Face Down (off vocal)
4. Mezahita Mira e (off vocal)
Arashi Official website (Johnny's Net)