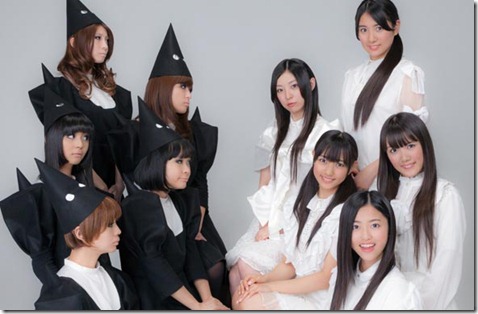 Idol groups BiS and Dorothy Little Happy are collaborating on new single "GET YOU". The single comes in two editions with each featuring one idol group. Each will cover one of the others hit songs along and adding a new song on their edition of the single. Single "GET YOU" is scheduled to hit stores January 9th 2013 – more details and music video for the title track follow.. .
Most recently BiS (Brand-new Idol Society) released their first album "IDOL is DEAD" on October 24th (release details) and Dorothy Little Happy just released single "Kaze yo Hayaku" on December 5th.
Their collaboration single "GET YOU" comes in two Regular CD-only editions,
– BiS themed that includes Dorothy Little Happy's hit song "Demo Sayonara" covered by BiS and a new song from BiS. First Press includes bonus photo.
– Dorothy Little Happy themed that includes BiS's hit song "nerve" covered by Dorothy Little Happy and a new song form Dorothy Little Happy. First Press includes bonus photo.
Music video for "GET YOU" featuring both idol groups follows below after the release details.
BiS x Dorothy Little Happy – "GET YOU" – release date January 9th 2013
Regular BiS [CD] (¥1260)


Regular Dorothy Little Happy [CD] (¥1260)


[CD]
1. GET YOU
(preview)
2. Demo Sayonara
3. Song for a
[CD]
1. GET YOU
2. nerve
3. Koware chau kuzure chau
Dorothy Little Happy Official website