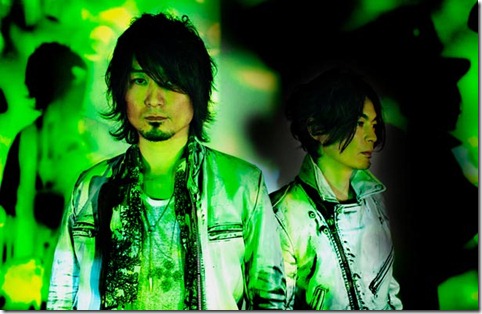 BOOM BOOM SATELLITES has announced a 15th anniversary album "EMBRACE" that will include single "BROKEN MIRROR", new song "EMBRACE", "ANOTHER PERFECT DAY", "HELTER SKELTER" (Beatles cover) and more for a total of 10 tracks. The duo's 8th original album comes on two editions including a Limited with bonus DVD and USB. Album "EMBRACE" is scheduled to be in stores January 9th 2013 – read on for more early release details…
The rock band continues their 15th anniversary celebration with their first original album in over 3 years since they released album "To the Loveless".
BOOM BOOM SATELLITES have another upcoming release – album "REMIXED" as part of the 15th anniversary celebrations that features many of their hit songs remixed by other artists like ryo (supercell), DJ KRUSH, Koji Nakamura (LAMA,supercar), and others. They also held a contest on NicoNico for anyone to remix single "BROKEN MIRROR" that was featured as the theme song for the 5th Mobile Suit Gundam Unicorn movie (release details). The winner's remix made it onto the album. Album "REMIXED" was originally set to drop September 19th but was delayed to change the cover jacket art and will now hit stores on November 7th (more details).
Album song "ANOTHER PERFECT DAY" is featured in CG animated movie "Starship Troopers Invasion" and was previously released via digital download only. 
BOOM BOOM SATELLITES will hold 3 pre-release parties at CLUB QUATTRO(s) for their 15th anniversary release – the events officially titled "'EMBRACE' The 15th Pre Release QUATTRO Premium Party",
– Dec 6th 6:30pm CLUB QUATTRO Shibuya
– Dec 10th 6:30pm CLUB QUATTRO Umeda
– Dec 11th 6:30pm CLUB QUATTRO Nagoya
More information and tickets available at Space Shower TV website (link at bottom).
Album "EMBRACE" comes on two editions,
– Limited with bonus DVD planned to include several music videos and more. Also bonus USB is scheduled to include remix parts of 3 songs, video interview with editor-in-chief of MUSICA, artwork, and screen saver.
– Regular CD-only.
Full track list, cover jackets, and bonus details will be announced so come back to Comtrya Sugoi for updates.
BOOM BOOM SATELLITES – "EMBRACE" – release date January 9th 2013
Limited [CD+DVD+USB] (¥4750)


Regular [CD] (¥3059)


[CD]
1. EMBRACE
2. BROKEN MIRROR
3. ANOTHER PERFECT DAY
4. HELTER SKELTER
5.- 10. undecided
[DVD]
1. contents to be announced
[USB]
1. contents to be announced
[CD]
1. EMBRACE
2. BROKEN MIRROR
3. ANOTHER PERFECT DAY
4. HELTER SKELTER
5.- 10. undecided
BOOM BOOM SATELLITES Pre-Release Party (SpaceShower TV)
Boom Boom Satellites website (Sony music)