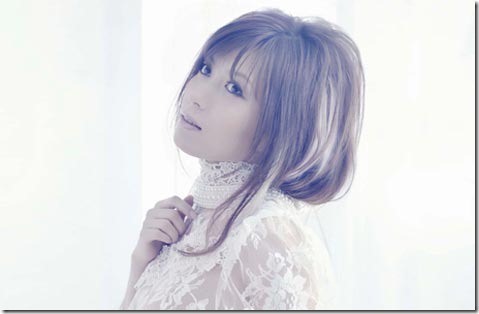 Singer/songwriter Ceui recently announced her 3rd album "Rapsodia" which includes recent single "Kaze no Naka no Prim Rose" featured as the ending theme for summer anime Koi to Senkyo to Chocolate (Love, Election, and Chocolate. The album also includes other game and anime tie-up songs that previously had limited releases and several new songs for a total of 14 tracks. Album "Rapsodia" hits stores December 26th – read on for more release details…
~ audio preview video revealed ~
Ceui released her 2nd album "Labyrithus" just 6 months ago on June 20th, so with her 3rd album "Rapsodia" being quickly released it only includes the one single "Kaze no Naka no Prim Rose" released since. Other included songs like "Binkan na Fukei" was featured as the 1st episode opening theme for TV anime Sola (2007) and only appeared on the anime's sound track release. Most of the songs on this new album are written by Ceui with arrangement by long-time collaborator Kotaro Odaka and song composition duties shared by both.
Fans can see Ceui live along with other singers and voice actresses at the Love, Election, and Chocolate & Ima sugu oniichan ni imouto da tte Itai!" joint event – January 20th 2013 at Nakano Sun Plaza Hall. Other participants include Annabel, Asami Imai, Minori Chihara, Kanae Ito, Yuu Asakawa, Yoko Hikasa, and more. Additional details at the Fairys official website (link below).
Ceui's 3rd album "Rapsodia" comes on one Limited edition that includes a bonus DVD with live performance footage from her one-man live event Ceui LIVE Chapter 1 "Labyrinthus". The event, in support of her 2nd album, was held September 29th & 30th at Mt. Rainier Hall Shibuya.
Ceui – "Rapsodia" – release date December 26th 2012
Limited [CD+DVD] (¥3300)


 
[CD]
1. Binkan na Fukei (TV anime Sola 2007)
2. crystal pain (inset song PC Game Preaty Witch Academy!)
3. Hitotsu Dake ~ Kiitoboku no Himitsu no Monogatari ~
4. Ulysses
5. Amorossia
6. Angelus
7. Asphodelus (theme PC game Kegare Tsubasa no Yusutia)
8. Eternal Flow (image song PC game Cross Days)
9. Jewelry Time (ED theme PC game Love, Elections, and Chocolate)
10. Prism (OP theme PC Game Preaty Witch Academy!)
11. Kaze no Naka no Prim Rose (ED theme anime Love, Elections and Chocolate 2012)
12. After The Deluge (ED theme PC Game Preaty Witch Academy!)
13. brilliant world (image song Tales of the Abyss 2008)
14. Kamigami no Uta (image song Ragnarok Online 6th Anniversary)
[DVD]
Ceui LIVE Chapter 1 "Labyrinthus" September 30th
– Prologue
– Labyrinthus
– Last Inferno
– Hikari to Yami to Toki no Hate
– Kibo e no Fanfare
– Stardust Melodia
– mellow melody