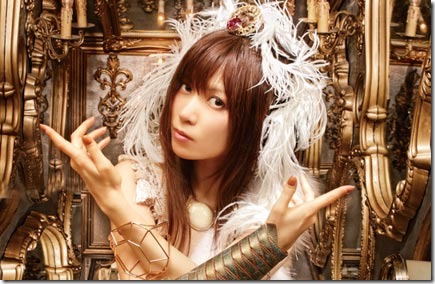 Ceui has revealed more details on her upcoming 4th album Gabriel Code ~ Eden e Michibiku Hikari no Gakufu ~, full track list, jacket covers, and PV video revealed. The album includes single Soai Calendula plus lots of new songs for 11 total tracks. Ceui's 4th album was originally scheduled for release on October 9th 2013 but delayed due to production issues. Album Gabriel Code comes on two editions that now hit stores November 20th 2013 – read on for more details and preview music video for new song Revolution.
Most recently singer and songwriter Ceui released single Soai Calendula (2013.07.24) featured as the ending theme for second season of anime Hakkenden Eight Dogs of the East.
As with most of Ceui songs she writes the lyrics and shares composition with long-time collaborator Kotaro Odaka who also handles the song arrangement. The duo also regularly provide songs for other Lantis artists such as couple song Infinia from the Sachika Misawa's 2nd single Lynx (ED A Certain Scientific Railgun S).
In support of her 4th album Ceui will hold a solo live mini-tour Gabriel Code Tour, more details on ticket availability at Ceui's official website (link below),
– Dec. 21st 2013 6:00pm LIVE HALL M.I.D. Nagoya
– Dec. 23rd 2013 5:00pm ESP club GARDEN Osaka
– Jan. 12th 2014 5:00pm Kinema Club Tokyo
Ceui's new album Gabriel Code comes on two editions,
– Limited with DVD that includes music video for new song Revolution.
– Regular CD-only.
Extra bonus while supplies last on both editions – selected stores offer a Gabriel Code booklet to help uncover codes within songs throughout the album (Animate, Gamers, Toranoana), other stores offer a photo (varies by store).
Watch the promo video featuring new song Revolution below the release details.
Ceui – Gabriel Code ~ Eden e Michibiku Hikari no Gakufu ~ – release date November 20th 2013
Limited [CD+DVD] (¥3500)


Regular [CD] (¥3000)


[CD]
1. Gabriel Code
2. Revolution
3. Zenchizen no Shangri-La
4. Kimi dake no Sutekina Talento
5. Interlude ~ Shoujo no Inori ~
6. Knight Of Gold
7. Mifasorashi de Kiss Shiyo
8. Stella no Furu Yoru, Kimi no Utagoe
9. Sabaku no Santa Maria
10. Soai Calendula
11. Ningyo Hime to Oji no Monogatari
[DVD]
1. Revolution (music video)
[CD]
1. Gabriel Code
2. Revolution
3. Zenchizen no Shangri-La
4. Kimi dake no Sutekina Talento
5. Interlude ~ Shoujo no Inori ~
6. Knight Of Gold
7. Mifasorashi de Kiss Shiyo
8. Stella no Furu Yoru, Kimi no Utagoe
9. Sabaku no Santa Maria
10. Soai Calendula
11. Ningyo Hime to Oji no Monogatari