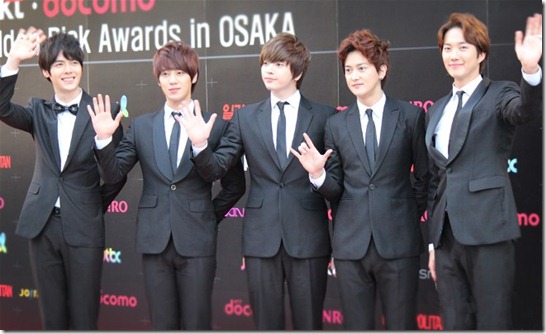 Korean group Supernova and known in Japan as Choshinsei has announced a new single. The single, not yet titled, will come in two editions, a Limited with bonus DVD and Regular CD-only edition. The title track is said to be a powerful dance song (not yet titled) and coupling track will be "COME BACK TO ME". The bonus DVD will include music video for the title track and off shoot footage for the music video and cover jacket photo shoot (tentative). Single is set for release on May 23rd – more details follow,
This will be Choshinsei's first single of 2012 though member Yoonhak released a solo single "Again" a few weeks ago on March 21st and 14th overall. Through 2011 the group's members were more focused on solo projects and TV drama acting.
The coupling track "COME BACK TO ME" is featured as ending theme of TV Tokyo drama 'Koisuru Maison ~Rainbow Rose~' and staring member Geonil.
First Press bonuses include a poster and perhaps more yet to be announced.
Release details are still early so check back to Comtrya Sugoi for updated details when announced.
Choshinsei (Supernova) – new single release date May 23rd 2012
Limited [CD+DVD] (¥1680)


Regular [CD] (¥1100)


[CD]
1. tba
2. COME BACK TO ME
3. tba (off vocal)
4. COME BACK TO ME (off vocal)
[DVD]
1. Title track music video
2. Making of music video
3. Jacket photo shoot
[CD]
1. tba
2. COME BACK TO ME
3. tba (off vocal)
4. COME BACK TO ME (off vocal)
Choshinsei Official website (Japanese)
Choshinsung Offical website (Korean)