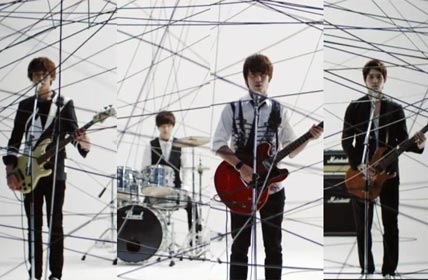 CNBLUE recently updated the release details for their 4th Japanese single – "Robot" and have now revealed a preview music video for the title track. The single comes in three editions including a Limited with bonus DVD that includes footage from their Pacifico Yokohama "CODE NAME BLUE" album release event. Single "Robot" is getting ready to hit stores on December 19th – more details and preview music video follow.
CNBLUE released their 3rd Japanese single "Come on" on August 1st – information and preview music video are reported here. The group's first Japanese album "CODE NAME BLUE" hit stores August 29th and gave the group a #1 charting album on the Oricon weekly album charts.
The band recently completed a major hall and arena tour of Japan, "CNBLUE Arena Tour ~COME ON!!!~" with a final performance Oct 20th Saitama Super Arena. This performance will be re-broadcast on Fuji NEXT TV January 13th 2013 – more details at Fuji TV (link at bottom).
CNBLUE has also announced they will release the "CNBLUE Arena Tour ~COME ON!!!~"  final performance from Saitama Super Arena on DVD and Blu-ray. Release date is scheduled for January 23rd – more details will be reported.
Single "Robot" comes on 3 editions,
– Limited with bonus DVD with footage of 6 songs performed live during their Pacifico Yokohama "CODE NAME BLUE" release event September 10th 2012.
– Regular CD-only.
– Warner Music Japan Direct CD-only with bonuses – Christmas cards (5 of 5), Christmas ornament, special packaging.
Special bonus lottery for fans who purchase with Limited and Regular editions or the Warner Music Japan Direct edition,
A) Special event by lottery invitation (entry deadline Dec 20th)
B) Large poster/calendar (entry deadline Dec 24th)
An additional purchase bonus for fans getting either edition of single "Robot" plus their upcoming Jan. 23rd live release on either DVD or Blu-ray.
Details of how to apply for bonuses and the special event will be announced – check the CNBLUE website for details (link below).
Preview music video for "Robot" follows below…
CNBLUE – "Robot" – release date December 19th 2012
Limited [CD+DVD] (¥2500)


Regular [CD] (¥1260)


[CD]
1. Robot
2. ring
3. Starlit Night
4. Robot (off vocal)
[DVD]
1. Robot (music video)
2. Robot (off shoot)
3. Pacifico Yokohama release event
– with me
– Have a good Night
– No more
– Wake up
– Time is over
– In My Head
[CD]
1. Robot
2. ring
3. Starlit Night
4. Robot (off vocal)
Warner Music Direct Limited [CD] (¥1890)

[CD]
1. Robot
2. ring
3. Starlit Night
4. Robot (off vocal)
[bonus]
Special packaging, Christmas card
CNBLUE Official website (Korean)