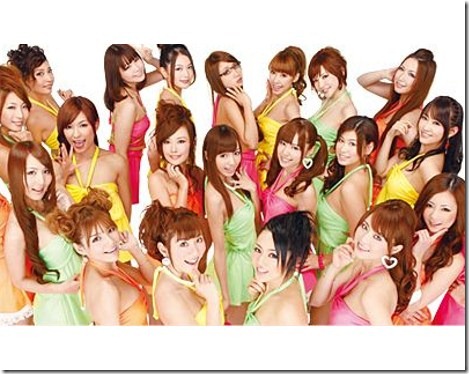 Idol unit Ebisu Muscats will release their 6th single "Honey Trap♪" on March 28th. It will be their first single since transferring record labels to Pony Canyon. To help promote the single they have exposed preview videos for both the title track and one of the coupling tracks "Okaasan". All the release details on the single and the preview music videos follow,
The new single comes in 4 editions, Limited A with coupling track "Katte ni Gonzalez" and bonus DVD with music video for title track "Honey Trap♪", Limited B with coupling track "Go Go…Purukawa" and bonus DVD with music video for the coupling track, Limited C with coupling track "Okaasan" and bonus DVD with music video for the coupling track, and a Regular CD-only edition with track list same as Limited C version.
Since their debut in 2010 the unit comprised of gravure idols and AV actresses had released 5 singles and 1 album – with their success over the past year the decision was made to transfer from NAYUTAWAVE Records to Pony Canyon.
Note – some confusion on the title of the single as either "Honey To Rap♪" or "Honey Trap♪" – we're going with "Trap" – seems to fit the music video and the group.
Preview music videos are below the release details..
Ebisu Muscats – "Honey Trap♪" – release date March 28th 2012
Limited A [CD+DVD] (¥1700)


Limited B [CD+DVD] (¥1700)


[CD]
1. Honey to Rap♪
2. Katte ni Gonzalez
3. Honey to Rap♪ (off vocal)
4. Katte ni Gonzalez (off vocal)
[DVD]
1. Honey to Rap♪ (music video)
[CD]
1. Honey to Rap♪
2. Go Go…Purukawa
3. Honey to Rap♪ (off vocal)
4. Go Go…Purukawa (off vocal)
[DVD]
1. Go Go…Purukawa (music video)
Limited C [CD+DVD] (¥1700)


Regular [CD] (¥1000)


[CD]
1. Honey to Rap♪
2. Okaasan
3. Honey to Rap♪ (off vocal)
4. Okaasan (off vocal)
[DVD]
1. Okaasan (music video)
[CD]
1. Honey to Rap♪
2. Okaasan
3. Honey to Rap♪ (off vocal)
4. Okaasan (off vocal)
Ebisu Muscats – "Honey Trap" – single release date March 28th 2012
Ebisu Muscats – "Okaasan" – coupling song single "Honey Trap" – release date March 28th 2012