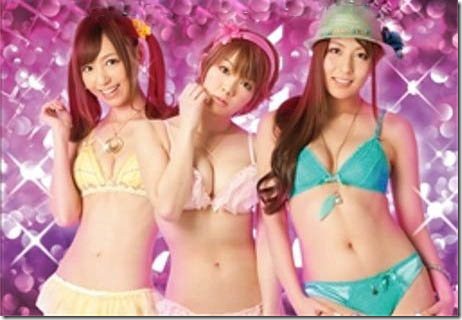 Debut album from Kiss, an unit consisting of Mayu Nozomi and two members from Ebisu Muscats – Aino Kishi and Jessica Kizaki. "Touch My S.P.O.T. Super Pachinko Oriented Tracks" includes covers of anime and j-pop songs plus original songs from the ultra-sexy unit. The girls have also just posted a video message and preview music video promoting their debut album. The album comes in two editions and its set for full exposure on June 27th. Video and release details follow.
Aino Kishi and Jessica Kizaki from Ebisu Muscats are also gravure (soft-core/sexy) models/Idols. Mayu Nozomi is a singer with a few releases since 2008.
"Touch My S.P.O.T." comes in two editions:
– Limited with bonus DVD that includes music videos for "DOKI DOKI" and "Girl's Spot" plus off shoot footage from interviews and making of the album.
– Regular CD-only.
First Press version of the Regular edition includes a photo (1 of 4).
Track "Genesis of Aquarion" is cover of opening theme song by Yoko Kanno from anime of same name.
Video with message from the girls and a preview of music video for track "DOKI DOKI" follows below the release details…
Kiss – "Touch My S.P.O.T. Super Pachinko Oriented Tracks" – release date June 27th 2012
Limited [CD+DVD] (¥3200)


Regular [CD] (¥2800)


[CD]
1. DOKI DOKI sa Sete Yotsu
2. Cutie Honey
3. Lucky
4. Kazen Inaritai
5. Zankoku na Tenshi no Teze
6.  Pepper Keibu
7. Tsubasa Wokudasai
8. Ai Oboete Imasu ka
9. A Mujou
10. CAT'S EYE
11. Genesis of Aquarion
12. Girl's Spot
[DVD]
1. DOKI DOKI sa Sete Yotsu (music video)
2. Interview and making-of album footage
3. Girl's Spot (music video)
[CD]
1. DOKI DOKI sa Sete Yotsu
2. Cutie Honey
3. Lucky
4. Kazen Inaritai
5. Zankoku na Tenshi no Teze
6. Pepper Keibu
7. Tsubasa Wokudasai
8. Ai Oboete Imasu ka
9. A Mujou
10. CAT'S EYE
11. Genesis of Aquarion
12. Girl's Spot
Kiss – "Touch My S.P.O.T." – video message/DOKI DOKI preview music video. Album release date June 27th 2012