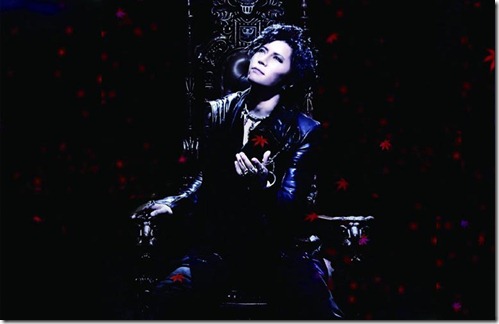 GACKT has updated the release information for his new single "HAKURO" – cover jackets and new bonus are revealed. The single is currently featured as theme song for live-action TV drama Sengoku BASARA MOONLIGHT PARTY. GACKT is also staring in role of Nobunaga Oda in the TV drama based on the Sengoku BASARA game. Also revealed is a TV commercial spot for the new single which hits stores October 10th – updated release details and CM video follow.
Sengoku BASARA MOONLIGHT PARTY airs on MBS starting July 12th it will be also aired on BS-TBS starting September 4th.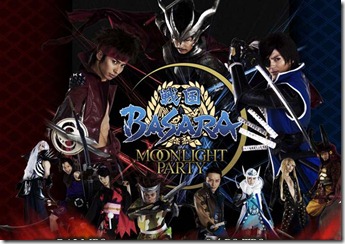 Enjoy the opening for the drama with GACKT and TV-size version of song "HAKURO" at the bottom of this report.
GACKT is also nearing the end of his theatrical play "MOON SAGA Yoshitsune Hiden" which ran initially July 15th to August 26th. Additional performances are added in Tokyo September 26th – October 2nd. More details on the play are available in an earlier report.
Single "HAKURO" comes in two editions,
– Limited with bonus DVD that includes music video for title track. First Press bonus adds a lottery ticket for goods.
– Regular CD-only. First Press version adds lottery ticket for goods.
The lottery ticket bonus for 5,000 lucky fans will be one of the artificial leaves used in the music video for "HAKURO" in a framed package.
TV CM spot follows below the release details.
GACKT – "HAKURO" – release date October 10th 2012
Limited [CD+DVD] (¥1890)


Regular [CD] (¥1260)


[CD]
1. HAKURO
2. Jounetsu no Inazuma
3. HAKURO (off vocal)
4. Jounetsu no Inazuma (off vocal)
[DVD]
1. HAKURO (music video)
[CD]
1. HAKURO
2. Jounetsu no Inazuma
3. HAKURO (off vocal)
4. Jounetsu no Inazuma (off vocal)
GACKT – HAKURO – releases October 10th 2012
GACKT – HAKURO – opening theme song release date October 10th 2012
Capcom Sengoku BASARA game Official website
Sengoku BASARA-MOONLIGHT PARTY Official website