September 17, 2012
-
toyNN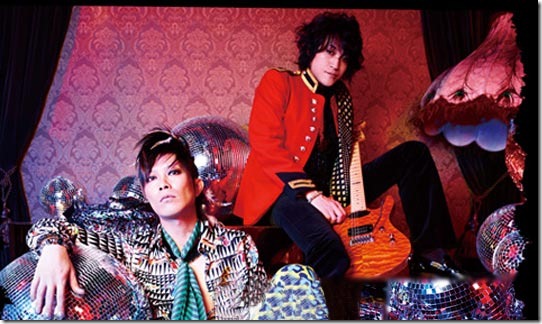 GRANRODEO is getting ready to release their 5th original album "CRACK STAR FLASH" and have announced the full track list, in-store release events, and a tie-in with the title track. Song "CRACK STAR FLASH" will be featured as opening theme song in October for TV Asahi's music show "BREAK OUT". The album hits stores October 10th – updated release details follow.
GRANRODEO has also announced their 18th single titled "DARK SHAME" and it will be featured as the opening theme for upcoming anime CODE:BREAKER – its scheduled for release November 7th – more details are posted here.
GRANRODEO consists of singer/voice actor KISHOW (Taniyama Kisho) and guitarist e-ZUKA (Iizuka Masaaki). Their 16th single "Can Do" was featured as the first opening theme for anime Kuroko's Basketball and their 17th single "RIMFIRE" (release details) is currently featured as the second opening theme for anime Kuroko's Basketball. Both singles are included on the new album.
To celebrate the release of their new album "CRACK STAR FLASH", GRANRODEO will hold in-store "High-Touch" events:
– Oct 8th 6:00pm Animate Sendai
– Oct 9th 5:30pm Factory Atrium Sapporo
– Oct 10th 6:30pm Animate Shibuya
– Oct 15th 7:00pm Animate Tennoji
– Oct 16th 5:000pm Tower Records Fukuoka
GRANRODEO will hold a live performance at Yokohama BLITZ on November 3rd. Both editions of the album contain serial number to apply for tickets. They have also announced a new 11-performance tour in support of the new album that begins December 1st at Kagawa Takamatsu Olive Hall and ends February 3rd 2013 at Zepp Tokyo. Full tour stop list at end of report.
GRANRODEO – "CRACK STAR FLASH" – release date October 10th 2012
Limited [CD+DVD] (¥3500)


Regular [CD] (¥3000)


[CD] (track list and order tentative)
1. CRACK STAR FLASH
2. Can Do (OP1 Kuroko no Basketball)
3. NO PLACE LIKE A STAGE (insert song anime Total Eclipse)
4. Urban Sweet
5. Merry-go-round
6. Mesmerize
7. HAPPY LIFE
8. RIMFIRE (OP2 Kuroko no Basketball)
9. 0-GRAVITY (Theme Muv-Love Alternative PS3)
10. Same Yuku Netsu
11. Ai no Warrior (PSP Angelique ma Koi no Roku Kishi)
[DVD]
1. CRACK STAR FLASH (music video)
GRANRODEO LIVE 2012 Hibiya Amphitheater June 30th live performances:
2. Opening SE
3. Can Do
4. Koi no HEAT WAVE
5. Summer-GT09
6. Mesmerize
7. RIMFIRE
[CD] (track list and order tentative)
1. CRACK STAR FLASH
2. Can Do (OP1 Kuroko no Basketball)
3. NO PLACE LIKE A STAGE (insert song anime Total Eclipse)
4. Urban Sweet
5. Merry-go-round
6. Mesmerize
7. HAPPY LIFE
8. RIMFIRE (OP2 Kuroko no Basketball)
9. 0-GRAVITY (Theme Muv-Love Alternative PS3)
10. Same Yuku Netsu
11. Ai no Warrior (PSP Angelique ma Koi no Roku Kishi)
GRANDRODEO LIVE TOUR 2012-2013 CRACK STAR TOURS
– Dec 1st 5pm Kagawa Takamatsu Olive Hall
– Dec 2nd 3:30pm Hiroshima Club Quattro
– Dec 8th 5pm Fukushima Koriyama Hip Shot
– Dec 9th 4pm Miyagi Sendia Rensa
– Dec 15th 4pm Nigata LOTS
– Jan 12th 5pm Zepp Fukuoka
– Jan 14th 5pm Zepp Namba
– Jan 19th 4pm Zepp Sappora
– Jan 27th 5pm Zepp Nagoya
– Feb 2nd 5pm Zepp Tokyo
– Feb 3rd 3pm Zepp Tokyo
GRANRODEO Tour Tickets website