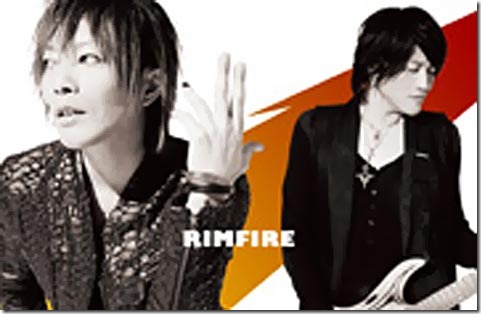 GRANRODEO just updated the release information for their new single " RIMFIRE" and exposed a preview music video for the title track. The song "RIMFIRE", the 17th single from GRANRODEO, will be featured as the second opening theme for basketball anime "Kuroko no Basuke" (Kuroko's Basketball). The single comes in two editions and is set for release on July 18th. Listening to the preview music video gives a good sample of this new strong rock song – enjoy it and the updated release details that follow.
GRANRODEO consists of singer/voice actor KISHOW (Taniyama Kisho) and guitarist e-ZUKA (Iizuka Masaaki). Their 16th single "Can Do" was featured as the first opening theme for Kuroko's Basketball.
The anime Kuroko's Basketball centers around Kuroko Tetsuya who was part of a legendary Generation of Miracles middle school basketball team. He was the invisible 6th man on that team that no one seems to be able to remember. Now he is now a first year at Serin High School and chooses to become the shadow for fellow first year Kagami Taiga (who spent his middle school in America) to help fulfill Kagami's goal of becoming the best basketball player in Japan. Their team from Serin battles other teams including the 5 teams who each have one of the Generation of Miracles.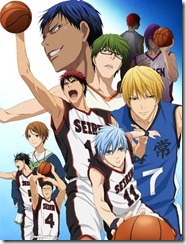 Kuroko's Basketball began on April 7th and its set currently for 24 episodes (tentative). Watch it outside of Japan on Crunchyroll – check out our updates page for Crunchyroll or hit the link for posts and episodes tagged "Kuroko's Basketball".
The single comes in two editions:
– Limited with bonus DVD that includes music video for title track plus new versions of video for "Can Do"
– Regular CD-only
Updated release information follows and preview music video is below…
GRANRODEO – "RIMFIRE" – release date July 18th 2012
Limited [CD+DVD] (¥1800)


Regular [CD] (¥1200)


[CD]
1. RIMFIRE
2. Urban Sweet
3. Koi no HEAT WAVE
4. RIMFIRE (off vocal)
5. Urban Sweet (off vocal)
6. Koi no HEAT WAVE (off vocal)
[DVD]
1. RIMFIRE (music video)
2. Can Do Yes! We Can Do! ver. (music video)
[CD]
1. RIMFIRE
2. Urban Sweet
3. Koi no HEAT WAVE
4. RIMFIRE (off vocal)
5. Urban Sweet (off vocal)
6. Koi no HEAT WAVE (off vocal)
GRANRODEO – RIMFIRE – release date July 18th 2012 – opening theme anime Kuroko no Basuke (Kuroko's Basketball)
Kuroko no Basuke (Kuroko's Basketball) Official website