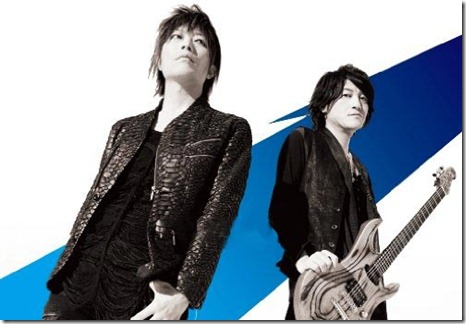 GRANRODEO has announced their 5th original album "CRACK STAR FLASH". Its been about a year and a half since the band released their 4th album "Supernova". The new album is offered in two editions and will include previously released singles, songs, and several new songs (complete track list not yet announced). GRANRODEO has also announced their 18th single titled "DARK SHAME" and it will be featured as the opening theme for upcoming anime CODE:BREAKER – more details are posted here. New album "CRACK STAR FLASH" is scheduled to hit stores October 10th – more details follow…
GRANRODEO consists of singer/voice actor KISHOW (Taniyama Kisho) and guitarist e-ZUKA (Iizuka Masaaki). Their 16th single "Can Do" was featured as the first opening theme for anime Kuroko's Basketball and their 17th single "RIMFIRE" (release details) is currently featured as the second opening theme for anime Kuroko's Basketball. Both singles are included on the new album.
To celebrate the release of their 5th album "CRACK STAR FLASH", GRANRODEO will hold a live performance at Yokohama BLITZ on November 3rd. Both editions of the album contain serial number to apply for tickets.
Cover jackets, full track list, and complete details will be announced so check back to Comtrya Sugoi for updates.
GRANRODEO – "CRACK STAR FLASH" – release date October 10th 2012
Limited [CD+DVD] (¥3500)


Regular [CD] (¥3000)


[CD] (track list and order tentative)
1. Ai no Warrior (PSP Angelique ma Koi no Roku Kishi)
2. Can Do (OP1 Kuroko no Basketball)
3. RIMFIRE (OP2 Kuroko no Basketball)
4. Urban Sweet
5. HAPPY LIFE
6. NO PLACE LIKE A STAGE (insert song anime Total Eclipse)
7. CRACK STAR FLASH (new song)
8. – 15. to be announced
[DVD]
1. to be announced
[CD] (track list and order tentative)
1. Ai no Warrior (PSP Angelique ma Koi no Roku Kishi)
2. Can Do (OP1 Kuroko no Basketball)
3. RIMFIRE (OP2 Kuroko no Basketball)
4. Urban Sweet
5. HAPPY LIFE
6. NO PLACE LIKE A STAGE (insert song anime Total Eclipse)
7. CRACK STAR FLASH (new song)
8. – 15. to be announced