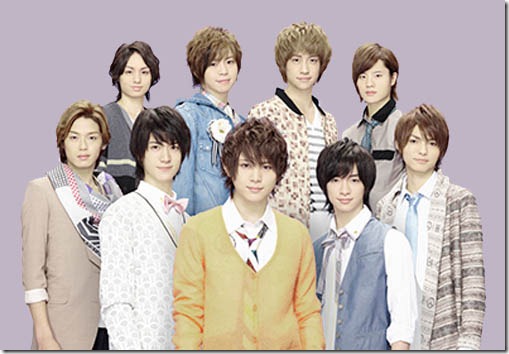 ~ Updated: Jacket covers revealed – here –
Hey! Say! JUMP has revealed the title for their 2nd album – "JUMP WORLD" and set the track list. We previously posted early release details on the album before the title was released and with a track list that is a changed in ordering. The track list is now ordered and the First Press versions has more details – the new information follows,
Its been about two years since Hey! Say! JUMP released their first album "JUMP NO. 1" and their fans have been waiting in much anticipation for this second album.
"JUMP WORLD" comes in two editions:
– Limited with 14 tracks, bonus DVD with off-shoot video from the cover jacket photo shoot and album recording sessions, a 40-page photo booklet.
– Regular CD-only with 14 tracks (tracks 12-14 different from Limited).
First Press version for the Limited edition adds a 28-page booklet and for the Regular edition adds a 3D cover jacket and 40-page photo booklet (different from the Limited ed.).
The release details are still without the jacket covers so check back to Comtrya Sugoi for updates when announced.
Hey! Say! JUMP – "JUMP WORLD" – release date June 6th 2012
Limited [CD+DVD] (¥3000)


Regular [CD] (¥2700)



[CD]
1. Perfect Life (new song) 
2. SUPER DELICATE
3. Tsunagu Te To Te (new song)
4. Boku wa Vampire (new song)
5. OVER
6. Hero (new song)
7. Magic Power
8. Hurry up! (new song)
9. Sam & Pinky (new song)
10. 'Arigato'~Sekai no Doko ni Ite mo
11. Together forever (new song)
12. Spicy (first time on CD/ Hey! Say! BEST)
13. Uta Utau (first time on CD/Hey! Say! 7)  
14. Endless Dream (first time on CD)
[DVD]
1. Special video recording (off shoot)
2. Jacket photo shoot (off shoot)

[CD]

1. Perfect Life (new song)
2. SUPER DELICATE
3. Tsunagu Te To Te (new song)
4. Boku wa Vampire (new song)
5. OVER
6. Hero (new song)
7. Magic Power
8. Hurry up! (new song)
9. Sam & Pinky (new song)
10. 'Arigato'~Sekai no Doko ni Ite mo
11. Together forever (new song)
12. Snap (new song / Hey! Say! BEST)
13. Hana Egao (new song/Hey! Say! 7) 
14. Single Medley ~Second act~
Hey! Say! JUMP Official website (Johnny's net)