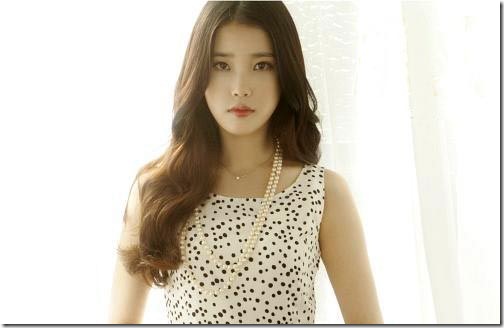 Korean singer IU has her second Japanese single "You & I" ready for release and she has just exposed long preview music video for the title track. Previously we reported the early release information with a bonus of the music video for IU's first Japanese single and now the full track list and cover jackets have been updated. The single is the Japanese version of her hit #1 Korean song "You and I" and is due to hit stores July 18th. Release information and music video follows.
IU (Aiyu) (19yr) has been a popular force since debuting in Korean and with a powerful voice as risen to a #1 charting solo female artist this past year. The Korean idol/singer released her first single released in Japan "Good Day" back on March 21st.
Her second Japanese single "You & I" will be offered in three editions:
– Limited A with bonus DVD that includes the making-of footage for the music video and footage from IU's live events held around Japan this Spring. Also include is bonus remix version of the title track.
– Limited B with bonus DVD that includes the music video and a special long Korean music video.
– Regular CD-only with bonus track off-vocal version of "You & I"
All editions include postcard application for ticket lottery to special event "IU Friendship Concert 2012 ~Autumn~" that is scheduled for September 17th.
Limited editions and First Press version of Regular edition include is a second application flyer – submit all three from the different editions and get photo booklet. On each application you can select to be entered into drawing for 1 of 5 autographed costumes IU used during Spring events in Japan, 1 of 15 roll screen store displays, or 1 of 2000 DVDs with additional footage from "IU Friendship Showcase ~Spring 20112~".
Music video for "You & I" follows below the new single release details…
IU – "You & I" – release date July18th 2012
Limited A [CD+DVD] (¥2300)


Limited B [CD+DVD] (¥1800)


[CD]
1. You & I
2. Shounen Jidai
3. You & I (remix) 
[DVD]
1. You and I (making of off-shoot) 
2. IU Friendship Showcase ~Spring 2012~
[CD]
1. You & I
2. Shounen Jidai
[DVD]
1. You and I (music video)
2. Every End Of The Day (full size music video, Korean w/Japanese subtitles, 27min)
Regular [CD] (¥1100)


[CD]
1. You and I
2. Shounen Jidai
3. You and I (off vocal)
IU – You & I – release date July 18th 2012