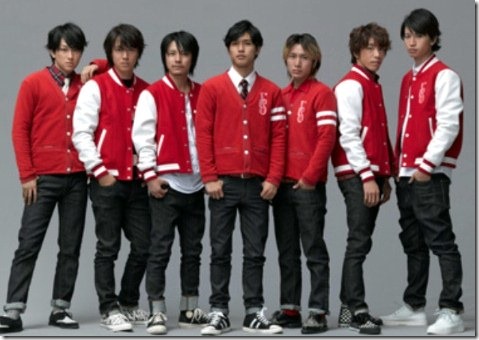 KANJANI8 has updated the release details for their new single "Ai Deshita" which is due out on June 13th that celebrates the group's 8th anniversary. Previously we posted here the mostly complete release details and now the jacket covers are official. Updated release details follow,
The single is featured as the main theme song of the TV drama series "Papadoru!" – member Nishikido Ryo plays the leading role – and is offered in two editions:
– Limited with bonus DVD that includes the music video and off-shoot footage for the title track and special packaging. Entry ticket for special events for the single with details to be announced.
– Regular with 2 bonus songs and 6 total bonus tracks with off-vocal version of all 4 songs. Entry ticket (same as Limited).
First Press version on the Regular edition adds a bonus 'Eight Sound' sticker.
KANJANI8 – "Ai Deshita" – release date June 13th 2012
Limited [CD+DVD] (¥1470)


Regular [CD] (¥1000)


[CD]
1. Ai Deshita
2. Midarezake Romance
[DVD]
1. Ai Deshita (music video)
2. Ai Deshita (off shoot)
[CD]
1. Ai Deshita
2. Midarezake Romance
3. Merry Go Round
4. Rurarira
5. Ai Deshita (off vocal)
6. Midarezake Romance (off vocal)
7. Merry Go Round (off vocal)
8. Rurarira (off vocal)
KANJANI8 Official website (Teichiku records)