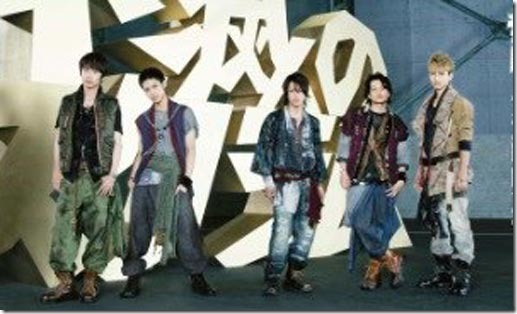 The boys of KAT-TUN have updated the release details on their new single "Fumetsu no Scrum" (Scrum of Immortals). The cover jackets and full track lists are official now for the group's 19th single. "Fumetsu no Scrum" has a tie-in as the theme song for TBS/MBS TV drama series "Dragon Seinendan". The single hits stores September 12th – read on for updated details.
Drama series "Dragon Seinendan" began airing July 14th on TBS and stars Yasuda Shota of KANJANI8. The theme song provided by KAT-TUN is described as a powerful rock tune fused with lyrics that recall the bonds of youth.
Single "Fumetsu no Scrum" comes in three editions – each as different CD track list,
– Limited A with bonus DVD that includes music video and off-shoot footage for title track.
– Limited B with bonus DVD. The CD track list includes coupling song solo by Tanaka Koki and DVD includes music video for the solo song plus a members off-shoot footage.
– Regular CD-only with different coupling track and bonus Karaoke tracks for both the title and coupling songs.
KAT-TUN will participate in the "DREAM BOYS" and "JOHNNYS' World" live performance events held at the Imperial Theater, Tokyo. The "DREAM BOYS" events feature KAT-TUN with other Johnnys' groups such as Hey! Say! JUMP, Kis-My-Ft2, and others. These live events run daily with two shows starting September 3rd thru 29th. More details are available at KAT-TUN's website (link at bottom).
KAT-TUN – "Fumetsu no Scrum" – release date September 12th 2012
Limited A [CD+DVD] (¥1470)


Limited B [CD+DVD] (¥1400)


[CD]
1. Fumetsu no Scrum
2. in the Dark
3. in the Dark (off vocal)
[DVD]
1. Fumetsu no Scrum (music video)
2. Fumetsu no Scrum (off shoot)
[CD]
1. Fumetsu no Scrum
2. BLACK or WHITE (solo Tanaka Koki)
[DVD]
1. BLACK or WHITE (music video, solo Tanaka Koki)
2. all members footage (off shoot)
Regular [CD] (¥1000)


[CD]
1. Fumetsu no Scrum
2. RADIO
3. Fumetsu no Scrum (off vocal)
4. RADIO (off vocal)