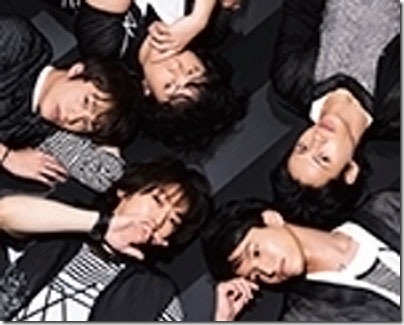 KAT-TUN has exposed the complete release details for new single – "TO THE LIMIT" – jacket covers and full track list are announced. The group's 18th single is set to hit stores on June 27th and they are looking to continue their streak of #1 singles on Oricon as all previous have charted #1 for its opening week. Updated details on "TO THE LIMIT" follow,
KAT-TUN released their 6th album "Chain" (release details) on February 22nd 2012.
"TO THE LIMIT" comes in two editions:
– Limited with bonus DVD that includes the music video and behind the scenes making-of footage for the title track. CD has 3 tracks including coupling track in two versions (differs from Regular ed.).
– Regular CD-only with 6 total tracks that include bonus track "SPIRIT" which is featured as the theme song Nippon TV baseball show 'Dramatic Game 1844' and TV series 'Going! Sports & News' and the off vocal versions of each track. (coupling tracks differ from Limited ed.).
KAT-TUN – "TO THE LIMIT" – release date June 21st 2012
Limited [CD+DVD] (¥1470)


Regular [CD] (¥1100)


[CD]
1. TO THE LIMIT
2. WALKING IN THE LIGHT
3. WALKING IN THE LIGHT (off vocal)
[DVD]
1. TO THE LIMIT (music video)
2. TO THE LIMIT (off shoot)
[CD]
1. TO THE LIMIT
2. Sore Zore no Sora 
3. SPIRIT
4. TO THE LIMIT (off vocal)
5. Sore Zore no ora (off vocal)
6. SPIRIT (off vocal)