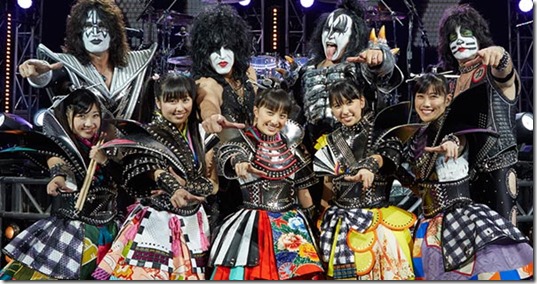 Momoiro Clover Z and legendary USA rock band KISS have announced a unlikely collaboration on a new single (untitled) and the KISS 40th Anniversary World Tour. The single's title song is composed and played by KISS with Momoclo providing vocals and at the KISS40 tour final Tokyo Dome concert Momoiro Clover Z will participate. Collaboration single Yume no Ukiuyo ni Saitemina (夢の浮世に咲いてみな) comes on two editions scheduled for release on January 28th 2015 – read on for more details and Japanese report videos.
~ jacket covers and MV revealed ~
Idol unit Momoiro Clover Z also announced that the collaboration single will kick off three months of consecutive single releases. More details coming on the upcoming releases.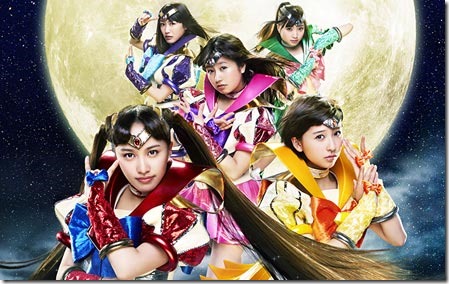 Most recently Momoiro Clover Z released their 12th single MOON PRIDE on July 30th 2014. Title track MOON PRIDE has tie-up as opening theme for anime Sailor Moon Crystal plus coupling track Gekkou (月虹) is featured as the anime's ending theme.
For the special collaboration single Momoiro Clover Z will travel to Las Vegas for the jacket cover shoot and music video. The single is also planned for iTunes release around the world.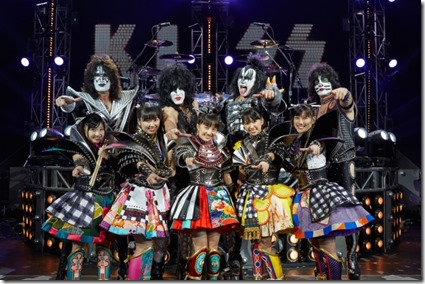 The collaboration single comes on two artist themed editions (details subject to change). Momoclo version includes Blu-ray with music video and Regular CD-only KISS version adds additional coupling track.
Title, full track list, jacket covers, and more details coming! After the release details watch Japanese morning news/variety show ZIP! and Sukkiri! covering the collaboration announcement.
Momoiro Clover Z vs KISS – Yume no Ukiuyo ni Saitemina (夢の浮世に咲いてみな) – release date January 28th 2015
Limited "Momoclo ver" [CD+BD] (¥1759)


Regular "KISS ver" [CD] (¥1250)


[CD]
1. title song
music: KISS

2. coupling song
3. title song (off vocal)
4. coupling song (off vocal)
[BD]
1. music video

[CD]
1. title song
2. coupling song
3. coupling song
4. title song (off vocal)
5. coupling song (off vocal)
6. coupling song (off vocal)
Momoiro Clover Z Official site