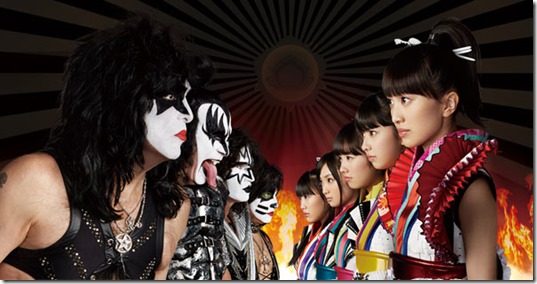 Momoiro Clover Z vs KISS special collaboration single Yume no Ukiuyo ni Saitemina (夢の浮世に咲いてみな) releases January 28th 2015. The single's title song is written and performed by KISS with Momoiro Clover Z singing. Read on for all the details and full music video.
Legendary USA rock band KISS is celebrating their 40th anniversary with a world tour and the special Momoiro Clover Z collaboration. At the KISS 40th Anniversary World Tour final Tokyo Dome concert Momoiro Clover Z will participate.
Idol unit Momoiro Clover Z (Momoclo) also announced theme song Seishunfu (青春賦) for upcoming movie Maku ga Agaru (幕が上がる). The members of Momiro Clover Z star in the high school comedy-drama movie that premieres February 28th 2015. Single Seishunfu also includes two insert songs for the movie and its set for release on March 11th 2015 (more details).
In another release announcement Momoclo revealed they'll provided the theme song for upcoming anime movie Dragon Ball Z Revival 'F'. The movie premieres nationwide in Japan on April 18th 2015. No released details yet for the theme song.
For the special collaboration single Momoiro Clover Z traveled to Las Vegas for the jacket cover shoot and music video. The single also releases on iTunes worldwide.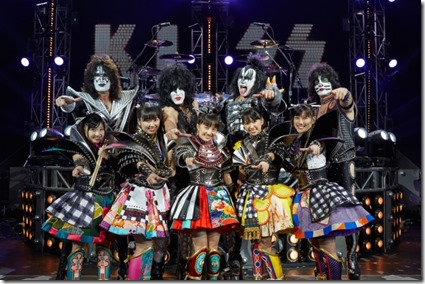 Single Yume no Ukiuyo ni Saitemina comes on two artist themed editions. Momoclo version includes Blu-ray with music video and Regular CD-only KISS version adds additional coupling track with Momoclo providing chorus vocals.
Music video for Yume no Ukiuyo ni Saitemina and trailer for movie Naku ga Agaru both after the release details.
Momoiro Clover Z vs KISS – Yume no Ukiuyo ni Saitemina (夢の浮世に咲いてみな) – release date January 28th 2015
Limited "Momoclo ver" [CD+BD] (¥1759)


Regular "KISS ver" [CD] (¥1250)


[CD]
1. Yume no Ukiuyo ni Saitemina
lyrics: Iwasato Yuho, Paul Stanley, music: KISS, chorus: KISS

2. Rock and Roll All NIte
original: Gene Simmons/Paul Stanley, arrangement: Narasaki, Yuyoyuppe

3. Yume no Ukiuyo ni Saitemina (off vocal)
4. Rock and Roll All Nite (off vocal)
[BD]
1. Yume no Ukiuyo ni Saitemina (music video)

[CD]
1. Yume no Ukiuyo ni Saitemina
2. Rock and Roll All NIte
3. SAMURAI SON
lyrics: Paul Stanley, music: KISS, chorus: Momoclo

4. Yume no Ukiuyo ni Saitemina (off vocal)
5. Rock and Roll All Nite (off vocal)
6. SAMURAI SON (off vocal)
Momoiro Clover Z Official site