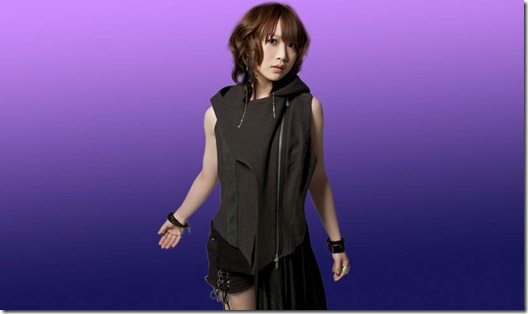 ~ Updated details and preview video – jump ~
May'n has announced she will release her 2012 live event "May'n ☆ GO! AROUND!!" on both DVD and Blu-ray. The release features her performance at Yokohama Arena on March 20th. It includes 27 songs and behind the scenes footage, nearly 4 hours of live May'n on two DVDs or one Blu-ray disc. The live release is set to hit stores August 8th – more details follow.
May'n released her 8th single "Chase the world" on May 9th and as with all of her previous singles it has an anime tie-in – its featured as the opening theme for Accel World – check out the release details here. May'n also released her 3rd album "HEAT" (release details) on March 21st, one day after her Yokohama Arena performance captured on this new release.
Release details aren't yet complete without the jacket covers so check back to Comtrya Sugoi for updates.
Below the release details enjoy the videos for single "Brain Driver" and album title track "HEAT".
May'n – "May'n ☆ GO! AROUND!!" – release date August 8th 2012
Limited [DVDx2] (¥6500)


Limited [BD] (¥7350)


[DVD1]

1. Brain Diver
2. SPIRIT
3. Yuzu Renai sou Hi
4. Nouzan Kurous
5. Get Ready
6. May'n☆Space
7. Nanbawan!
8. Ribe Maboroushi no Hikari
9. Daiamondo Kurebasu
10. Swan
11. What 'bout my star?
12. BLUE
13. Gira Gira Sama (^ω^) no
14. Smile:D
15. DOLCE
16. Giant Step
17. Kindan no Erikushia
18. Oberisuku
19. HERO
20. GET TOUGH
21. Kimi Shinitamou Kotonakare
22. Scarlet Ballet
23. WE ARE
24. Chase the world
25. Iteza Gogo Kyuji Don't be late
26. Kagami
27. HEAT of the moment

28. Making of footage

[BD]

1. Brain Diver
2. SPIRIT
3. Yuzu Renai sou Hi
4. Nouzan Kurous
5. Get Ready
6. May'n☆Space
7. Nanbawan!
8. Ribe Maboroushi no Hikari
9. Daiamondo Kurebasu
10. Swan
11. What 'bout my star?
12. BLUE
13. Gira Gira Sama (^ω^) no
14. Smile:D
15. DOLCE
16. Giant Step
17. Kindan no Erikushia
18. Oberisuku
19. HERO
20. GET TOUGH
21. Kimi Shinitamou Kotonakare
22. Scarlet Ballet
23. WE ARE
24. Chase the world
25. Iteza Gogo Kyuji Don't be late
26. Kagami
27. HEAT of the moment

28. Making of footage